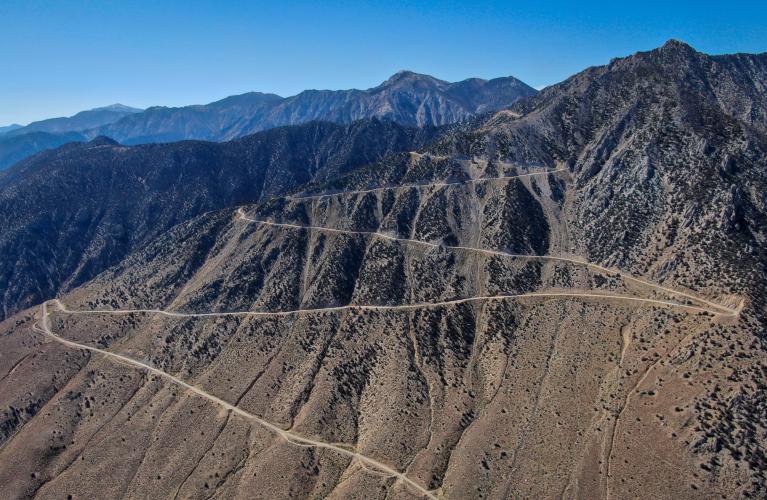 Page Contributor(s): Luke Hise, Phoenix, AZ.
INTRO
Cycling Horseshoe Meadows: This is the second most difficult bike climb in California and the longest in the Owens Valley climbing mecca. This is an epic bike climb that begins with an eight mile approach to the first of Horseshoe Meadows distinctive hairpins. This climb has what, in our experience, is the most exceptional view of giant hairpins visible from a distance of any other bike climb in the US, or the world, that we have encountered - the four monstrous hairpins carved into the barren face of the steep eastern slope of the Sierra Nevada Mountain Range rising out of the Owens Valley are one of the Seven Wonders of the US Cycling World - breathtaking.
ROUTE MAP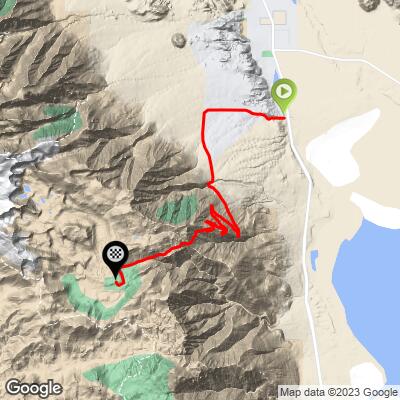 ---
PJAMM TRIPS ADVENTURE STARTER BUNDLES
Check out
PJAMM Adventure's
prepackaged (self-guided) cycling trips. They will help you plan, document and conquer your next adventure.
NEARBY CLIMBS (0) RADIAL PROXIMITY
FROM
---
MEMBER REVIEWS & COMMENTS
Let us know what you thought of this climb. Signup for our FREE membership to write a review or post a comment.
Already have an account?
LOG IN HERE
---
Did this in September 2019 after Whitney Portal next door in the same day. Be sure to start from the real bottom and catch Lubken Canyon road the first 3 miles, the scenery is crazy good (see the first photo). HM is a beast, made more so by the crappy road. It saps watts on the way up, and makes the descent difficult. Throw in the wind, the switchbacks, the joint cracks every 50', and the literal 3,000' dropoffs 10' off the pavement edge, and I found the descent terrifying. I actually stopped twice to cool my (rim) brakes. Still, this climb is epic in every way possible. Sure it's hot, but as an East-coaster, a dry 100 degrees is child's play and didn't phase me. Tough to support yourself as there are no services on the 45 mile out/back from Lone Pine, luckily my wife supported my long day (and took these sweet photos). I'm 5-8, 150 and pushed a 36x28 and it felt manageable. Detour though Alabama Hills on the way back down, AMAZING rock features.
Best ride in western North America, IMHO. Also IMHO, just stop at the first summit, as the rest is an anticlimax. When planning an Owens Valley weekend, leave a whole day for this one, not because you will need all day to climb it, but so you can stop and savor it.
This was a really hard climb for me. The altitude made the whole thing feel like a struggle, and it was pretty hot nearly the whole climb even though it tops out at 10k/3000m. Definitely was an amazing experience
Absolutely beautiful views on Horseshoe Meadows. If you go from Luttle Creek, the views are even better and there's less traffic. The first couple switchbacks seem to go on forever at a consistent 8%, but you quickly gain a ton of elevation and end up high above the valley. Take a bunch of pictures on the switchbacks as they are just amazing views going up. If you do this in mid-April or early May, the road is closed about 80% of the way. Watch out on the descent as there can be rocks in the road and a ton of bumps. If you're Peter Sagan, you can just bunny hop all of them, but if you're me, you might actually have to slow down a little bit.
If you start at the RV park, then this is a monster climb of more than six thousand feet. The first few miles are very scenic and pleasant and then it is a bit desolate crossing over to the bottom of the climb. Once you pass the ranch, things get serious and rather difficult. Note: this road is much less maintained than Whitney Portal, which is actually pretty pristine for a high altitude climb. If you can do it, ride it on bigger tires with lower pressure (I prefer just rolling big tires at 25 psi but not everyone has a separate bike for rough road, high Sierra climbs). Higher up, the view is spectacular and then you turn towards the peaks and enter the trees until the top.
Loved the climb!! The switchbacks are amazing both from Hwy 395 and when you are doing the climb. The grade is not as unrelenting as Onion Valley and despite its greater length and elevation it did not seem nearly as difficult. AND the views are absolutely outstanding. A must do ride if you bring your bike to the Owen Valley.
This is a long climb... it doesn't get as steep as the ride profile may suggest but that doesn't stop it from feeling tough at times. Highly recommend if you are in the area. Besides the first few miles where the road gets very narrow with bad pavement, two steep pitches and several cattle guards it is pretty good. The descent is a bit brutal with all the cracks in the road but worth it. No view at the top so just go for the pain! Make sure you go through Alabama Hills or Whitney Portal on the way down for some really awesome rock formations.
Road/Traffic: Do this climb in April/May before it opens to cars. You will contend with some rock debris and snowpack mediated road damage, but nothing severe. Scenery: Iconic switchbacks leading to sweeping views of the Owens Valley. Conclude in a campground surrounded by pines.