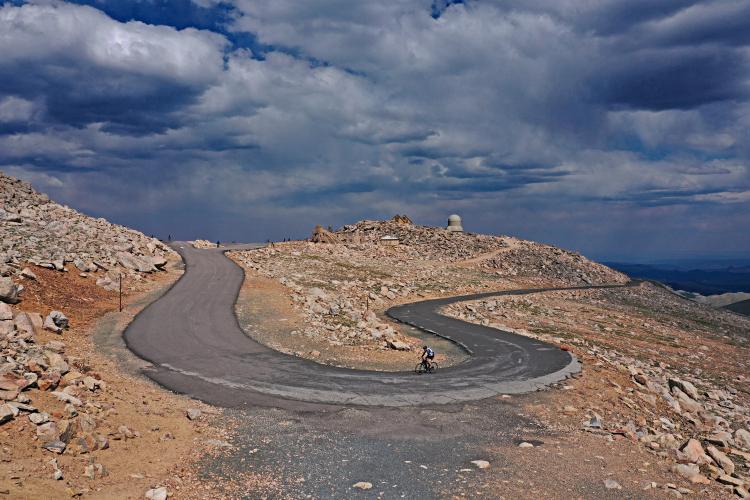 Page Contributor(s): Bruce Hamilton and Stacy Topping, USA Erich Pawelka, Vienna, Austria
INTRO
"The paved road on Mount Evans ends as the highest in the northwestern hemisphere and is one of the most unique rides in the World. One of the most difficult climbs in Colorado, it is not steep but its length and altitude will work on many riders all the way up to its craggy summit. The start is a bit congested and over shallow grade but signs of civilization soon end and the grade gradually increases along a tree lined route within a drainage. Graceful curves and a very steady grade accompany you on this stretch. As you approach Echo Lake the grade eases and then goes flat for a short section as you pass the lake on the right..." (This quote is presented with the approval of John Summerson, from his book, The Complete Guide to Climbing (by Bike) in Colorado, pg. 100.)
ROUTE MAP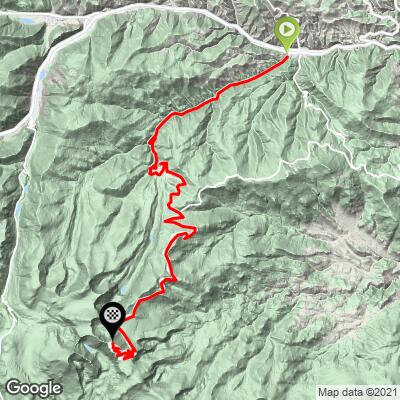 ---
NEARBY CLIMBS (0) RADIAL PROXIMITY
FROM
---
MEMBER REVIEWS & COMMENTS
Let us know what you thought of this climb. Signup for our FREE membership to write a review or post a comment.
Already have an account?
LOG IN HERE
---
I just signed up to say thank you for providing the detailed information on this ride as well as Pikes Peak. I flew in from Korea last weekend for this ride and was able to make it up the mountain. The goal for me was making it up safely rather than breaking any records. It is indeed a strenuous climb going through multiple temperature and air pressure zones. A couple points: riding in August you can easily ride with a short sleeve jersey and short bibs for the first 3/4 but you should have a windbreaker or kneewarmers/armwarmers for when you get to the top and for when you get back down. I also recommend full finger gloves. You can easily stock up on drinks/energy at the halfway summit house but after that there is really nothing so bring at least two large water bottles and plenty of energy bars or boost ups. After 2pm it starts to get real chilly on top so plan on reaching the top before then. As noted in the article, there is plenty of parking at the bottom at the ranger h
I rode this on 8/2/21 and this truly embodies an epic climb from start to finish. Road quality: great from the start to Echo Lake, less than average from Echo to Summit Lake, awful from Summit lake to the top. There is a toll booth at Echo Lake, but no toll for bikes. Cars that want to go from Echo on the road to the top require a reservation in addition to the toll. Plan accordingly if you want to drive on the road or have a support car. I did Mt. Lemmon, Mt. Mitchell, and Dante's View prior to this so I had a good idea of how to approach the climb. The altitude was the only thing I had no experience with. It affected me mentally, I found that after Summit Lake I became scatterbrained and woozy. But I was aware it was happening to me so I knew not to panic. I wore a windjacket the entire ride. It is a must have here. The temperature at the top was in the 40s. Descent was slow due to road quality, disc brakes are a must. DEFINITELY DO THIS CLIMB!
One of my favorites. Start from Idaho Springs and be sure to take off early in the morning. Otherwise, you risk running into afternoon thunderstorms and significantly more traffic. Until arriving at Echo Lake, the road is awesome. Above Echo Lake, expect some seriously rude road surfaces. Incidentally, while most address the mountain CLIMB, the decent below Echo Lake is absolutely awesome!
I biked this last summer when it was closed to cars (all summer!) Was very glad to have zero traffic. The road close to the summit is pretty jarring. Large seams in the road make the descent a little scary at times. But besides that the conditions are pretty good. There are always mountain goats at the summit and a nice area to snack and rest before descending. I started in Idaho Springs, which makes the round trip 55 miles with about 7,000 feet of climbing.
Mar 9, 2021
KrisLJames262
The first half from Idaho springs is pristine road but heavier traffic. In Sept of 2020, the road was closed to traffic from echo lake to the summit. So zero concern of vehicles. However, the road from echo lake to the summit is deteriorating pretty rapidly. Very rough descent. A must do climb simply to say you've done the highest rd in N.A. - MUCH easier climb than Pikes Peak.
In my few short years on the bike, this has been my favorite ride to date. The highest paved road in North America at over 14,000ft is breathtaking. One, because of the altitude, and two because of the amazing views. We were lucky to get a clear day in July with cool sights like 7+ feet snow drift and numerous mountain goats. I enjoyed this one more than it's fellow Colorado 14'er, Pikes Peak, as the grade was less extreme and less traffic. Traffic the first half from Idaho Springs was moderate, but once turning at Echo Lake it was less. The few cars that did head that way were even cheering us on along the way. Be sure to take some time at the top to soak in the views. Be careful the first 5 or so miles of the descent as the road was quite bumpy when I did this ride in 2019. This is a must do!