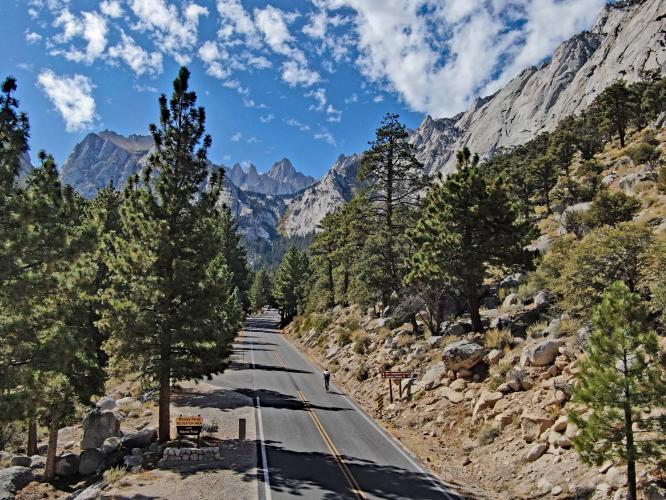 Page Contributor(s): Luke Hise, Phoenix, AZ; Tom Morton, Gardner, IND
INTRO
Whitney Portal is another epic Owens Valley HC. This route ascends to vibrant Whitney Portal which is a hub for adventurers hiking to Mt. Whitney and also those taking on the Pacific Crest Trail. There are exceptional views of the steep walls of the Eastern Sierra Nevada Mountains on our ascent which finishes with a unique and dramatic perspective of Mt. Whitney Summit.
ROUTE MAP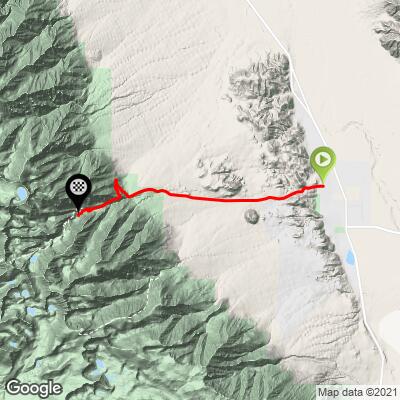 ---
PJAMM TRIPS ADVENTURE STARTER BUNDLES
Check out
PJAMM Adventure's
prepackaged (self-guided) cycling trips. They will help you plan, document and conquer your next adventure.
NEARBY CLIMBS (0) RADIAL PROXIMITY
FROM
---
MEMBER REVIEWS & COMMENTS
Let us know what you thought of this climb. Signup for our FREE membership to write a review or post a comment.
Already have an account?
LOG IN HERE
---
Sept 7, 2023 Whitney Portal road is closed about ½ mile from town. There is a 4 mile detour onto Tuttle Creek rd that takes you through some fantastic rock formations. It is a very narrow road - mostly 1½ lanes wide with numerous blind hills and corners - and all the Mt Whitney traffic going both ways. It would be a great addition to the bike climb if you are brave enough to joust with the traffic. I drove the detour around and back to Whitney Portal rd, turned right and went down back towards town to the closure barricade. Parked there then biked down Whitney Portal Rd to where ½ the road was missing, then turned around and did the normal climb up to the Whitney Portal parking area. Fantastic climb on a smooth road with no cracks ! There were some areas covered with sand but they were easily crossed on the way back down.
Road this in September 2019. I went a bit easy as I did Horseshoe Meadows next door right after. I actually didn't find it as hard as HM, maybe because the road is immaculate and it was a bit cooler, and I was fresh. Still, it is a steep grind the entire way, getting worse at the top. I went 36x28. In the extreme quiet, I could hear rattlesnakes in the rocks and F22s out of Andrews sometimes overhead. The views are insane. A bit of traffic as it is the access to Mount Whitney, and there is a camp store and parking at the top. On the descent, except for 2 or 3 braking points, it's flat out and so, so fast, thanks to the perfect pavement and good sight lines. There was a 5 mile straight stretch at the bottom where I averaged 45 mph. Loved this descent! Especially as compared to HM, which is downright terrifying.
I really don't have too much else to add here. This page already has a ton of great info! I enjoyed this climb a lot and would do it again.
I did this after doing Horseshoe Meadows earlier in the day. I don't really understand everyone rating this 4/5. I definitely think it is a solid 5/5 in terms of difficulty. The first third isn't too steep (5-6%), but it can be very hot. The second third is relentlessly steep, with it pretty much all being 10%+. The last third lets up a bit, and the scenery more than makes up for any pain the legs. The road is fantastic. I highly recommend this in late April or early May as the road is closed up top to all cars. There is water and a restaurant up top, although the restaurant was closed when I went.
I've done one solo up Whitney and two times up combined with Onion Valley Road (one incomplete; had to stop for sleet in April on OVR). Today I finally managed both by starting Whitney in darkness and coolness. I hit the switchback just as the sun came over the eastern mountain range. After today, I'm not sure if this one is harder than OVR or not. I suppose whichever one you do first is the easier. During the summer go very early to avoid traffic and heat.. I left at 4:4O and halfway up someone passed me going down who must have been really early.
Apr 30, 2021
carlinguernsey
This seemed like it is right up there with Onion Valley in difficulty. The gradient is more variable than Onion Valley which meant more work for a fat old man in some places. They were doing some repairs on the road when I did the climb a few years ago, so hopefully the surface is better now.
A brisk spin out of Lone Pine. Largely unrelenting grades, with the crucible at the final straight away before the first 2 switch backs averaging 10 percent. Traffic is minimal, and furthermore, the road is often closed to cars in April/May on account of snow pack but still accessible to bike. World beater scenery throughout the entire duration, our American Dolomites, if you will.