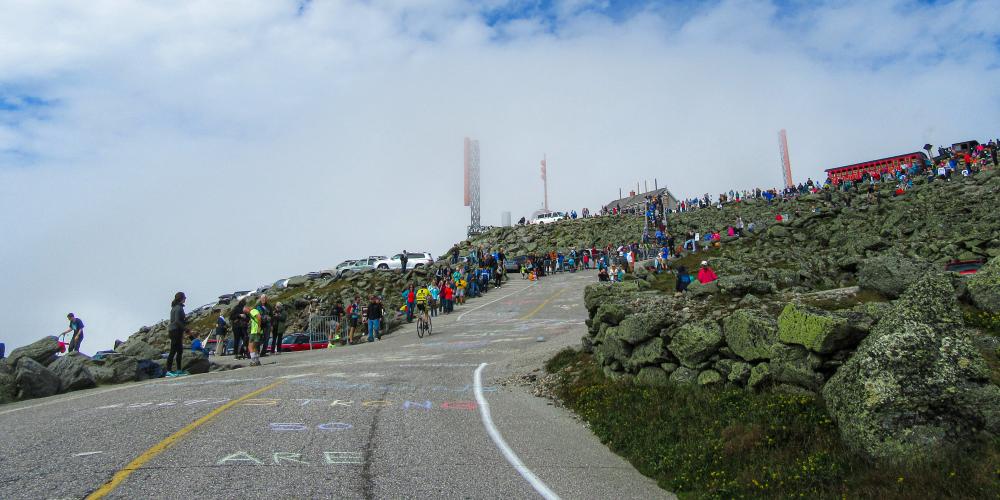 Page Contributor(s): John Summerson, The Complete Guide to Climbing (by Bike) 2nd Edition
INTRO
Mt. Washington Auto Road is home to the greatest hill climb race in the US and is the third most difficult bike climb in the country. The road is open twice per year, for the pre-race and actual race to the top. We begin the climb at the auto road toll booth, ride through forest, then above tree line to finish on the highest peak in the Northeastern United States, and the coldest (wind chill -108 2-10-23) and one of the windiest locations (231 mph 4-12-34 - fastest wind ever measured in the Northern and Western Hemispheres) in the world.
"Murderers" Octave Lapize screamed at TdF organizers as he walked his bike to the summit of Col d'Aubisque in 1910. Well, Mt. Washington Auto Road Hillclimb organizers - "Murderers" is a good description for you! Check out that gradient profile above - you won't see that for more than 5 miles anywhere in the United States (plus 2.4 bonus miles at punishing grade!!).




We have a statistic for distance over 10% and this is the steepest among eight climbs that fit that unique category. No climb open to the public in the US, other than Mt. Washington averages over 10% for five miles. 61% (4.5 miles) are at 10-15% grade and 11% (.8 miles) 15-20%. The steepest quarter-mile on this monster is 16%, and the steepest mile is 13.8%.




See more details and tools regarding this climb's grade via the "Profile Tool" button above.
Roadway: The roadway is in excellent condition, though a little less than a mile is dirt and gravel but easily managed on a road bike with normal tires, although we recommend no less than 25mm.




Traffic: Zero.




Parking: There is plenty of parking near the start on the day of the race.
Gearing: Choose your own, but choose wisely - when I did this race in 2015 I was very fit and a lot younger and used a compact (34t) chainring and 30t cassette. I would recommend a bigger cassette, however.




Clothing: They give you blankets at the finish which is a good indicator of what to expect at the top. It can be windy and very cold at the top so ensure the your driver for the trip down brings warm clothing for you to put on at the top. Check the PJAMM Weather tool for summit weather to assess exactly what clothing to pack - and pack a bit warmer.
We stayed in Gorham which is only eight miles from the climb start. The Gorham has some great options for private vacation rentals as well. Some cyclists ride from Gorham as a warm up before the race.
ROUTE MAP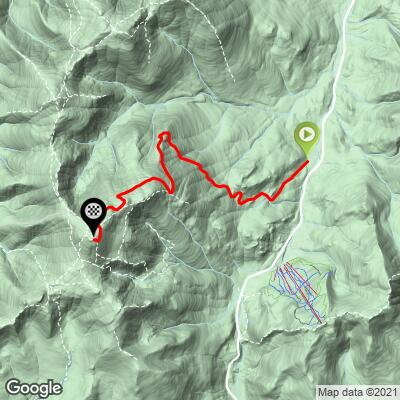 ---
PJAMM TRIPS ADVENTURE STARTER BUNDLES
Check out PJAMM Adventure's prepackaged (self-guided) cycling trips. They will help you plan, document and conquer your next adventure.
Mt. Washington Auto Road Race
United States (MA,ME,NH,VT)
ROUTE STATS (TOTAL)
NEARBY CLIMBS (0) RADIAL PROXIMITY
FROM
---
MEMBER REVIEWS & COMMENTS
Let us know what you thought of this climb. Signup for our FREE membership to write a review or post a comment.
Already have an account?
LOG IN HERE
---
The road no longer has that dirt stretch. It is all paved.
Of the numerous big mountain climbs I've done, I can easily agree with PJAMM this is among the most difficult there is. After the very short flat start it immediately hits double-digit grades the entire way up, and nowhere will you encounter any section to relax for even a few seconds. Let alone what also used to be a mile long segment of gravel, making it even more difficult. An example of how steep from what happened to me: I shifted early out of my big chain ring and the chain fell off. I had to dismount to put the chain back on, and it was so steep I couldn't clip back in to continue up, so I had to face the bike downhill to get momentum then turn around to continue climbing! Approaching the summit you'll be cheered on by people, and see the writing on the pavement, both of which provide a little adrenaline rush as you cross the finish line. Truly a climb you can be proud to say you did. (that's me in photo, eyeing the finish line)