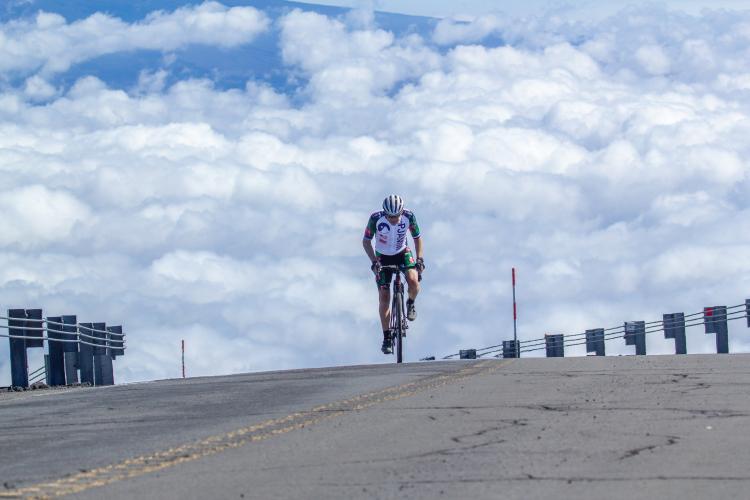 INTRO
This is hands down and by far the hardest bike climb in the world. The climb begins with the waves of the Pacific Ocean lapping at the shore behind us and ends 42 miles later, 13,803' above sea level at Mauna Kea Summit. In those 42 miles we descend less than 100'. We travel through five climate zones -- from the lush rainforest environment of Hilo, Hawaii to the lunar landscape that surrounds us the final 10 miles of the climb. At the top, you will have 42% less oxygen available as you climb the final miles at grades reaching 16%. Climb above the clouds to the top of the bike climbing world. This is the "Biggest Climb" you can ever do on Strava (Strava Mauna Kea Segment) . . . but, see our dear friend Erwan Treguier's tale of Mauna Kea + Mauna Loa . . . on the same day!!




Our Big Island guided tour App is accessed below.
ROUTE MAP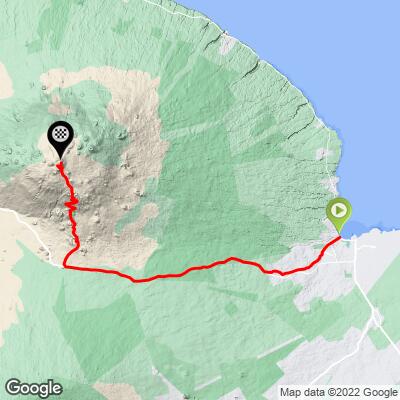 ---
PJAMM TRIPS ADVENTURE STARTER BUNDLES
Check out
PJAMM Adventure's
prepackaged (self-guided) cycling trips. They will help you plan, document and conquer your next adventure.
NEARBY CLIMBS (0) RADIAL PROXIMITY
FROM
---
MEMBER REVIEWS & COMMENTS
Let us know what you thought of this climb. Signup for our FREE membership to write a review or post a comment.
Already have an account?
LOG IN HERE
---
Aug 24, 2023
ineptsidekick
Amazing ride, by far the most difficult section is the gravel, possible on CX tires with the right gearing. I rode on 34 mm semi slicks (WTB byways) and had 22/34 gearing and I would have benefitted from lower. Don't forget that your sustained power is much lower at elevation, plan for lower gearing accordingly. I highly recommend hiring Christian James Photo to help you. They were very friendly, provided me with great SAG service for the day and amazing pictures that I will keep forever.
Thanks for the info! How many times did you need to stop for water? Did you rent or bring a bicycle?
Aug 25, 2023
ineptsidekick
I brought a cx bicycle that I installed mountain bike cranks on, to allow for lower gearing. The gravel section was very steep and extremely loose, you need way lower gears then you think or wide tires. Christian Jame's SAG service had refueling available frequently (30min to 60min range). I probably refilled my bottle 5 times, but that will be highly dependent on weather, the day i went was warm, mostly overcast for the first half of the trip.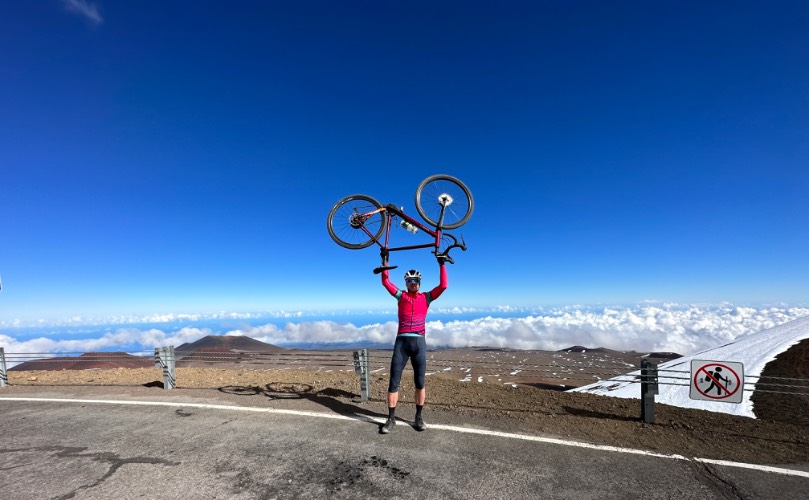 https://www.strava.com/activities/8447277079
Successful 1st attempt from Hilo on 11/17/22, 9h 7m on Mauna Kea Strava segment. Rented gravel bike (Giant Revolt) from Bikeworks Beach & Sports in Waikoloa; brought my own 11-40 cassette (bike came with 11-34 cassette and 48/31T crank) and chain to have extra low gears. Very happy with this setup, also had decent 38mm tires (Specialized Sawtooth). Checked wind speed and road status at http://mkwc.ifa.hawaii.edu/forecast/mko/index.cgi beforehand, but there is no reliable forecast. My husband drove a support van to the Visitor Center, and then rode along on an eMTB to the summit with a backpack of extra clothing for the descent. Never had to walk, but took the tire pressure way down for traction on the gravel. After reading other trip reports, I thought the gravel was not too bad; the road is very wide so you can pick your line. The final 3 miles on asphalt were daunting, with that final brutal switchback forever in view. After summiting, we rode back to the Visitor Center to our van.
This 09/17/2022 was my second attempt to reach the summit. First one was one week earlier on 09/10/2022. I had just road bike at that time (50/34 - 11/36) and the gravel road from VS was too much for it. Tried my best but ended about 2 miles from the summit. One week later without support car I took my MTB (36/24 - 11/36). It was good decision for the gravel, not so good for the paved road. I walked last half a mile on the gravel, from the sign - Ice age -which is brutal because of the 15% but mostly because of badly damaged road and high altitude. The weather was perfect, no inversion clouds and fog below. Three miles before VS the chain got trapped between last cog and the wheel. I realized I cannot shift anymore. Tried to fix this at VS, rangers were very friendly, Mike especially, but they had no appropriate tools. So I went on with just one gear. On the way down full suspension on gravel was perfect. EPIC CLIMB, I recommend two bikes, one for the paved road and one for the gravel.
8/5/22 - Left Hilo before sunrise to get ahead of the afternoon snow forecast at the summit- clouds rolled in as I started down (in support vehicle- would have been drenched and miserable otherwise). Switched wheels to 31/42 gear ratio with 42mm tires at the VC using the same Diverge frame. Last half mile of the gravel at sustained 15+% was the hardest part of the entire climb. Altitude really sapped the power above 11,000 ft; I conserved effort on the lower part of the climb, but ultimately couldn't burn any matches at altitude when I wanted them. Epic climb.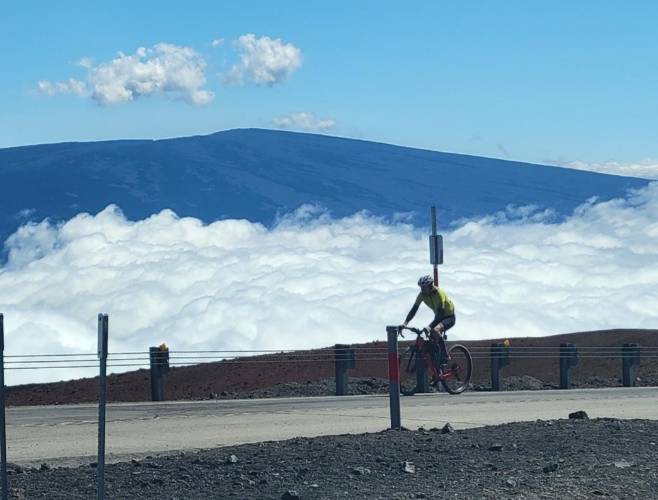 Climbed on Sept 1, 2022. A perfect day of cycling for me. Cool and overcast in Hilo, a little sun about half-way to the access road, then a tailwind up to the turn. I rode through the clouds between 7 and 8,000 feet but then it was clear skies and pleasant temps all the way to the summit. I brought my own bike built for this kind of ride. It's a no-name chinese carbon mtb frame, built up as an all-road/gravel bike, 40x24 and 11-42. Front Furious Fred/Rear Speedking. Aerobars for the flats. I rode my target watts and arrived at 10,000 feet feeling great. Which was good because the last mile of the gravel was steep, loose and washboarded. I was pretty relieved when that was over only to have a headwind on the super steep grind to the 2nd to last turn. My advice to add: no gear is too low when the road is this steep, this high up the mountain. I never had to walk or paper-boy.Big thanks to my wife, who supported me for the last half of the ride (and the 25 years before that).
Attempted on 4/6/2022 from Waikoloa Beach. First 17 miles had a decent cross headwind which made for slow going. Steep pitches start on the access road and I was happy I had the proper gearing on a rented Cervelo Aspero (30 front 34 back). Made it to the visitor center in another 90 minutes or so despite feeling like I was barely moving. Once at the VC, what looked like fog was clearly rolling in but they let me continue up the gravel part. Made it 2.5 miles or so up the gravel (only had to walk once on a very steep loose section) before a ranger drove past and told me they were closing the road and I needed to turn around. It started pouring ice rain and my goretex jacket was still in the support vehicle that now couldn't come up the road with the closure. Unfortunately turned around at 10,600ft :( The 38c tires on the gravel bike came in handy, might be able to do it on a 28c road bike but would be tough and probably slip a ton/require walking.
'Rode' this 6/23/21 from Waikoloa Beach unassisted. Ritchey breakaway, 30C, 50/34 X 11-34, 3L camelbak (12 lbs full). Without support, go Kona side as you can pit stop at the Kahehe rest area off Inouye Hwy. Take Old Saddle Rd - much quieter and absolutely beautiful - best part of whole ride imo. Phone coverage is good all the way so you can call for bail-out. Part above VC at 9000ft is as bad as most ppl say. Probably doable on road tires if you are >4-5 W/kg FTP. I'm not - ergo did 'some' high altitude bike hiking. Normal-ish riders need >35c tires + MTB gearing imo. Above 11000ft, altitude really hit and could not push 34/34 @ >10%. Don't know if it was just me, me that day, or something physiologically fundamental. Been up that high before and not had problems. Have small rain jacket for descent. Sort of sketch dodging tour vehicles coming up gravel part and got wet below VC to Hwy. Weather tends to come in late day. Would not want to descend Hwy to Hilo.
Completed 5/19/2021 Gear: Fuji Sportif 2.0LE | Shimano Tiagra | Compact Crank 50-34t | 11t-36t cassette (w/ Wolf Tooth Road Link) | 35mm Clement XPlor Ush tires. Such a sufferfest. First 7 miles from Hilo was great. Then a steady Hawaiian rain from mile 7-22ish. Fortunately it was warm rain and I had a rain jacket. From Mauna Kea Access Road to finish the weather was perfect - sunny and 50-60ºF. The Pjamm summary is spot on: it only gets increasingly more difficult from Saddle Rd to the summit. Gravel section was near impossible - sand/gravel mix. Walked a good portion of it. From end of gravel to summit is still brutally steep, requiring plenty of breaks to breathe (despite my living at elevation in Denver). The last mile has a few easier spots which provide just enough hope to finish out the climb. I was self-supported from Hilo to Access Road. Had support vehicle (i.e. family) for food/water from Saddle Rd to Summit. Thanks to PJamm for all the great info and inspiration!
May 6, 2021
lowestgearpossible
If you love climbing on a bike, this is the most you could probably get, from Waikoloa Village Resorts to summit it's 85km almost continuous climb. Gravel section didn't feel as bad as others posted, but the 3mi after the gravel is the hardest sucker I've ever climbed. Seriously, it takes everything out of you. PERFECT
May 6, 2021
lowestgearpossible
If you want to make it not only a long climb but also a long ride, you can start at Waikoloa Village. That gives you 53 miles and 4300+m to the summit. Best ride ever, incredibly demanding, 67 finishers on STRAVA as of May 2021.
Once in a lifetime! The last part from above Visitors center is hell! Loosely lava gravel and last 7km altitude impact, postman technique is required. The view at the summit is magnificent!!!