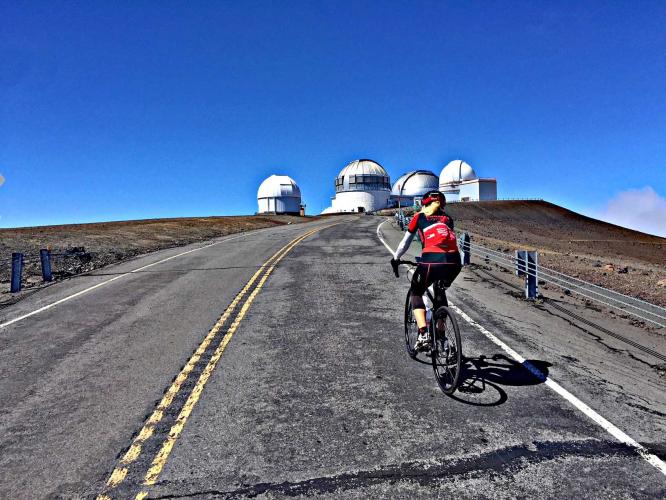 Page Contributor(s): Ron Hawks, USA; Ties Arts, Netherlands; Mark Manner, Nashville, TN, USA
INTRO
This is hands down and by far the hardest bike climb in the world. The climb begins with the waves of the Pacific Ocean lapping at the shore behind us and ends 42 miles later, 13,767' above sea level at Mauna Kea Summit. In those 42 miles we descend less than 100'. We travel through five climate zones -- from the lush rainforest environment of Hilo, Hawaii to the lunar landscape that surrounds us the final 10 miles of the climb. At the top, you will have 42% less oxygen available as you climb the final miles at grades reaching 16%. Climb above the clouds to the top of the bike climbing world. This is the "Biggest Climb" you can ever do on Strava (Strava Mauna Kea Segment).
ROUTE MAP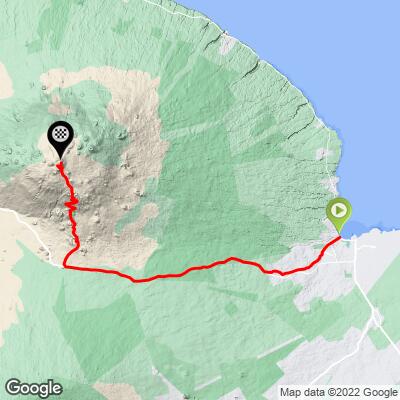 ---
NEARBY CLIMBS (0) RADIAL PROXIMITY
FROM
---
MEMBER REVIEWS & COMMENTS
Let us know what you thought of this climb. Signup for our FREE membership to write a review or post a comment.
Already have an account?
LOG IN HERE
---
'Rode' this 6/23/21 from Waikoloa Beach unassisted. Ritchey breakaway, 30C, 50/34 X 11-34, 3L camelbak (12 lbs full). Without support, go Kona side as you can pit stop at the Kahehe rest area off Inouye Hwy. Take Old Saddle Rd - much quieter and absolutely beautiful - best part of whole ride imo. Phone coverage is good all the way so you can call for bail-out. Part above VC at 9000ft is as bad as most ppl say. Probably doable on road tires if you are >4-5 W/kg FTP. I'm not - ergo did 'some' high altitude bike hiking. Normal-ish riders need >35c tires + MTB gearing imo. Above 11000ft, altitude really hit and could not push 34/34 @ >10%. Don't know if it was just me, me that day, or something physiologically fundamental. Been up that high before and not had problems. Have small rain jacket for descent. Sort of sketch dodging tour vehicles coming up gravel part and got wet below VC to Hwy. Weather tends to come in late day. Would not want to descend Hwy to Hilo.
Completed 5/19/2021 Gear: Fuji Sportif 2.0LE | Shimano Tiagra | Compact Crank 50-34t | 11t-36t cassette (w/ Wolf Tooth Road Link) | 35mm Clement XPlor Ush tires. Such a sufferfest. First 7 miles from Hilo was great. Then a steady Hawaiian rain from mile 7-22ish. Fortunately it was warm rain and I had a rain jacket. From Mauna Kea Access Road to finish the weather was perfect - sunny and 50-60ºF. The Pjamm summary is spot on: it only gets increasingly more difficult from Saddle Rd to the summit. Gravel section was near impossible - sand/gravel mix. Walked a good portion of it. From end of gravel to summit is still brutally steep, requiring plenty of breaks to breathe (despite my living at elevation in Denver). The last mile has a few easier spots which provide just enough hope to finish out the climb. I was self-supported from Hilo to Access Road. Had support vehicle (i.e. family) for food/water from Saddle Rd to Summit. Thanks to PJamm for all the great info and inspiration!
May 6, 2021
lowestgearpossible
If you love climbing on a bike, this is the most you could probably get, from Waikoloa Village Resorts to summit it's 85km almost continuous climb. Gravel section didn't feel as bad as others posted, but the 3mi after the gravel is the hardest sucker I've ever climbed. Seriously, it takes everything out of you. PERFECT
May 6, 2021
lowestgearpossible
If you want to make it not only a long climb but also a long ride, you can start at Waikoloa Village. That gives you 53 miles and 4300+m to the summit. Best ride ever, incredibly demanding, 67 finishers on STRAVA as of May 2021.
Once in a lifetime! The last part from above Visitors center is hell! Loosely lava gravel and last 7km altitude impact, postman technique is required. The view at the summit is magnificent!!!