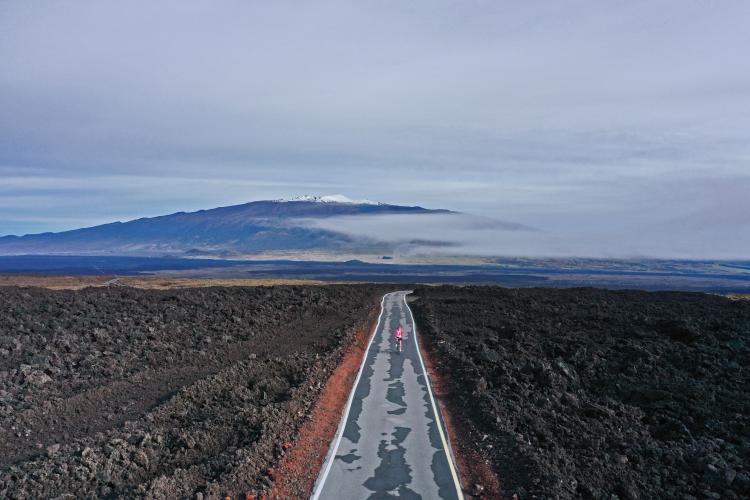 Page Contributor(s): Ron Hawks, Las Vegas, NV, USA Ties Arts, Bussum, Netherlands; Luke Hise, Phoenix, AZ, USA
INTRO
Mauna Loa is one of the only bike climbs in the world where you can say, "I did the __________ bike climb in the world." Mauna Loa is hands down the longest bike climb in the world and is a grueling climb from nearly sea level to 11,000' above sea level. Mauna Loa can also be accessed from the opposite side of the Island of Hawaii from our western approach, but starting from the east will not put The Longest Bike Climb in the World into your trophy case. After turning onto Mauna Loa Observatory Road at mile 45 (with 17 more miles to climb) you are surrounded by landscape like no other on any climb we have ever done - if you want to know what it would be like to ride your bike on Mars, climb Mauna Loa.
ROUTE MAP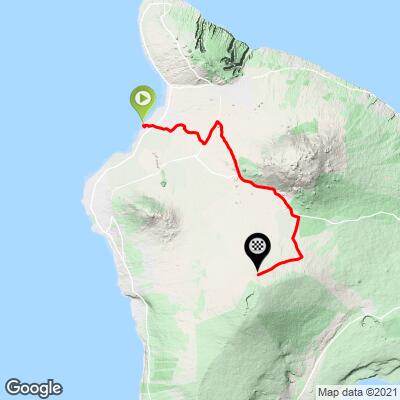 ---
NEARBY CLIMBS (0) RADIAL PROXIMITY
FROM
---
MEMBER REVIEWS & COMMENTS
Let us know what you thought of this climb. Signup for our FREE membership to write a review or post a comment.
Already have an account?
LOG IN HERE
---
It's possible to do this ride alone if you plan ahead. There was no longer a vending machine at the Gilbert Kahele park as mentioned. 1 strategy is to "stash" drinks along the way in advance (just remember which mile marker you leave them at & don't be a jerk- take your trash with you or make sure you drive back to retrieve it). If you ride from sea level, you'll have some traffic, which gradually drops off the further you climb. When I did this ride 03/2021, I saw only 1 other cyclist & less than 5 cars on the M. Loa observatory road in all the hours it took me. The weather is unpredictable. I was met by sleet near the top. The scenery is unique, but on a cloudy day, the observatory road became quickly tedious, with nothing but lava fields and no birds or animals for hours. The constant little up & downs can be a battle as mentioned. The air is thin and myHR showed it. It's not a steady climb you can just put your head down for & zone out to. But at least the roads are smooth!
Rode this 7/7/21 starting from Inouye Hwy. The road has been repaved and is perfect, unlike what you see in older pix and google maps. It's a perfect morning ride when you don't have time for an all-day ordeal/thing. Go early so the heat doesn't get you and 2 bottles will be enough. You may start in some fog but will climb clear by 7000ft. The views are absolutely the best: Hilo under clouds to the east, giant Mauna Loa shield that you are climbing to the south and west, Mauna Kea/Kohala/Haleakala to the north. Only traffic was a few work vehicles headed up to the observatory construction site. It's a stunningly scenic climb. Descent is fun but extra caution in the rollers where you cannot see far ahead. You are likely to encounter at least 1-2 vehicles coming up and there is no bail out - it's either into the lava field or a head-on.
I agree with the above that this climb is much harder than the math suggests - the little dips and kickers aren't captured in the contours, but they get really draining. Very hard to get in a rhythm. Also, important note: on 5/20/21, there are NO vending machines anymore at the rest stop on saddle road, so you'll need to carry all your food. The maintenance guy didn't know if there was a plan to bring them back. There is ample water, however. Coming from Kona-Kailua, you're looking at about 120 miles between services, R/T.
This climb is much more difficult than the modest gradients suggest. The Saddle Road is smooth with even grades. But, the Mauna Loa Observatory road just follows the contours of the lava fields. There are dozens of 11-14% ramps for 10-50 pedal strokes, followed by short flat or even downhill sections. So, while the grade might be only 6-7% over 1/2 a mile, you will be expending a lot of energy on those ramps. These would be tiring at sea level, but are really felt above 8,000 feet. That said, the downhill 17 miles back to the Saddle Road is the most exhilarating descent I can remember. You start to approach 35 mph, then go up a ramp to scrub some speed. We saw only three cars in three hours. But, it's a one lane road with some blind corners, so keep to the right so you don't get surprised (or worse). Headwinds can be an issue on the descent as well. Check National Weather Service and do pinpoint forecasts before you set out. There are no services. Traffic rating is for MaunaLoa