Page Contributor(s): Dan Razum, Campbell, CA, U.S.A Ron Hawks, Las Vegas, NV, U.S.A
INTRO
Cycling Clingmans Dome - this bike climb is, along with Mt. Mitchell in North Carolina, one of the two most popular bicycle climbs in the southeast. The most interesting details of this climb are: (a) it is in Smoky Mountains National Park, (b) we cross over the Tennessee-North Carolina border along the climb, and (c) Clingman's Dome itself, which is a 360 degree viewpoint at the highest point in Tennessee with views of the Smoky Mountains of Tennessee and North Carolina.
ROUTE MAP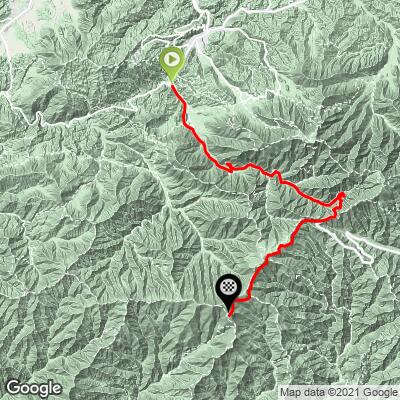 ---
NEARBY CLIMBS (0) RADIAL PROXIMITY
FROM
---
MEMBER REVIEWS & COMMENTS
Let us know what you thought of this climb. Signup for our FREE membership to write a review or post a comment.
Already have an account?
LOG IN HERE
---
I completed this climb last week (10/29/22) and it was phenomenal and hard. Ive only been back to cycling for a year now and viewed that as the final stamp of my first season back in the saddle and it didn't disappoint. Started from Sugarland Visitor Center at 8:00AM and, as stated by others, traffic is steady the entire way up until Mile 13 but, fortunately, I did not have any close calls. One you get off 441 and onto the Clingman's Dome access road, traffic subsides significantly. Pavement is flawless the entire way. And, my goodness, that descent was just *chef's kiss* - beyond perfection. 30-40mph the entire way for 20 or so miles? Absolutely stunning. Some tips: 1.) Take your time, enjoy the scenery 2.) Bring LOTS of water as there is no potable water on the ride once you leave the visitor center. 3.) Be sure to be well fueled. 4.) Bring multiple layers. Weather can change drastically and quickly. 5.) ENJOY!
I did the Clingman's Dome ascent twice while staying near Gatlinburg for a family vacation. First time was foggy as hec, but the second time (uploaded photos) was clear. I believe rangers at the park will prohibit cyclists from riding from the parking lot up to the observation tower ramp, but I was able to do so as I arrived before the ranger did. It is a steeper grade (8-10%?) than the road ascent (5%?). I rate traffic as "some" only b/c I began my ascent at the Sugarlands Visitor Center at dawn before the park gets busy. I counted about 30 cars passing me on the way up and 3 on the way down. Traffic gets heavy as the day goes on and no road shoulder exists but for vista pulloffs. I would certainly recommend starting the ascent as early as possible. Overall, I really like the climb and the descent was really enjoyable as the road is a moderate grade and was in perfect shape. Clingman's Dome Road itself (the final 7 miles of the climb) was just recently repaved as of late June 2022).
Great climb and Pavement was perfect the whole way up ! You will encounter many cars even if attempted in the morning but all gave me more than enough space , some even encouraged me on towards the top! I recommend starting the climb with two completely filled bottles because there is no where to fill back up until you come back down. If you want to ride to the observatory circle , be ready for 10-15% pitches to the top. Goodluck!
Traffic was constant. It was expected, being a Sunday. Campers being towed presented the most danger on the climb up. Started out cold and the descent off of Clingmans was fridgid. Beautiful views at each pullout. Fresh pavement up high on 441 was great. The dirt shoulder was not. Clingmans felt like riding in a National Park. Minimal traffic, beautiful sights, smells, & sounds. A must do for any Vols!
Be aware the Clingman's Dome road is closed Dec. 1 - March 31. I did not know or think about that and got lucky while riding on Nov. 16. Traffic was heavy and dangerous. Had two very close calls. Could not tell if the first (very close) was a deliberate buzz or an inattentive driver. The second, pickup truck, tried to put his hood under my left elbow but braked as I threw my arm out. The worst was the 13 miles on 441 which goes over the mountain. Once on Clingman's Dome access road all traffic was respectful those seven miles. Reached the summit and was socked in. Visibility was about 50 meters at best. The effort wasn't strenuous as much as it was just a slog. Unlike most climbs I have done and can't wait to repeat, I have no plans to repeat this one and could not recommend it because of the traffic. My ride was uphill, one-way. I did not get to experience what surely must be the best part - the descent. Maybe I will ride it again the downhill portion. Be careful my friends.
Mar 9, 2021
KrisLJames262
Get started early to avoid traffic. We started at 8am and the visitor center parking was empty. By the time we got back down at 11:30am the lot was overflowing with cars. Tough climb but not overwhelming and an amazing view at the top. Pristine road leads to an amazingly fast and safe feeling descent.