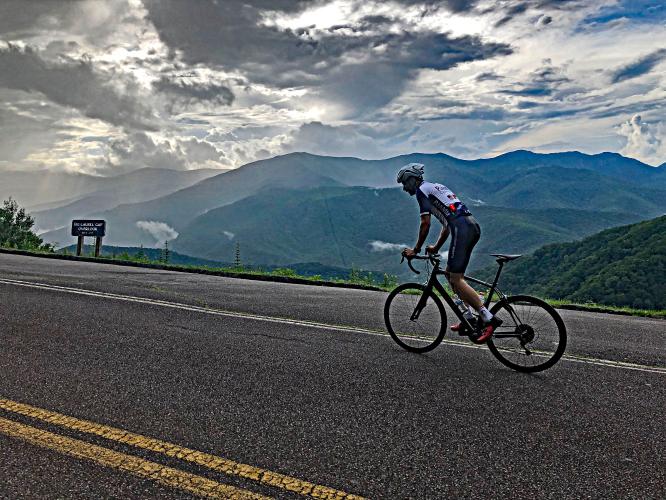 Page Contributor(s): Ron Hawks, Las Vegas, Nevada, USA; Amy Subar; Shanda Proulx, Catawba, SC.
INTRO
This is the hardest, highest, and most popular bike climb in North Carolina. Much of this climb is on the incomparable Blue Ridge Parkway, featuring eight of its highly regarded and scenic overlooks. The bike climb ends in a parking lot at 6,578'. Hike 100 yards from the parking lot to the Mt. Mitchell Observation Tower that sits at 6,684' - you cannot stand anywhere higher in North Carolina or in the entire Appalachian Mountains.



ROUTE MAP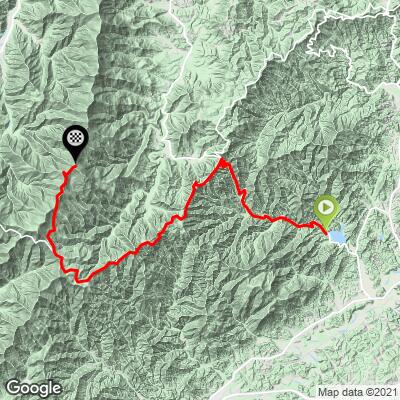 ---
PJAMM TRIPS ADVENTURE STARTER BUNDLES
Check out
PJAMM Adventure's
prepackaged (self-guided) cycling trips. They will help you plan, document and conquer your next adventure.
NEARBY CLIMBS (0) RADIAL PROXIMITY
FROM
---
MEMBER REVIEWS & COMMENTS
Let us know what you thought of this climb. Signup for our FREE membership to write a review or post a comment.
Already have an account?
LOG IN HERE
---
An early start was imperative as it was a roaster of a day once I returned back to my car. I grabbed the parking spot at the lake/Little Buck intersection. Great pavement and some classic Appalachian climbing up to the Parkway. The chip sealed BLRI soon turns to smoother pavement. Beautiful and short tunnels, incredible views, and minimal traffic in the early morning added up to a great experience leading up to the top. The NPS's staffing/funding woes are evident with the graffitied overlook signs and the poor conditioned road. Mt Mitchell state park looks to have its own woes as well with multiple portOpotties outside the visitor center. The top was completely fogged in but lower elevation views were incredible. The return trip's final 8 miles are sporty with switchbacks and some nice stretches to let off the brakes, An amazing day in the saddle.
Another start point is the folk art center off the blue ridge parkway in Asheville. Plenty of parking. About 32 miles and 5,600 ft too the top, along with 1400 ft of decsent (the worst is having to climb 1400 on the way back) Good ride
After seeing this climb on this site a couple of weeks ago I decided to do it....So, I drove from St Louis yesterday and did the climb today. It's an awesome ride, with great views and I would highly recommend it. Where I cycle normally we have steeper hills (lots of 10%-15% grades) but those climbs are a 1/4 mile up to a mile...this was a new experience...I started at highway 70 and 80 which I would recommend...it's 29 miles and about 6,300 feet to the summit from there. Here's my router if anyone is interested...Oh yeah, right near that intersection is a business, Outdoor Building and Yard Solutions...Very nice people there, Tom and Kara....I asked them if I could park there during my ride and they said no problem...Tom used to be a cyclist before back surgery took him out of it...Since parking can be an issue this was a real plus.
Fantastic ride! I thought it wasn't that bad, considering this was my first big climb. I train year round so I'm usually in pretty good shape. Made it up in ~2.5hrs. The last few miles up to the summit is challenging, but completely doable.
I did the climb on 5/22/21, and it was spectacular. The first segment was a fun windy road, the second segment was on the Blue Ridge Parkway which was the most scenic part of the ride with all of the overlooks. The last segment to the top was tough, but not too much. The view from the summit was a fitting reward for the effort. It was pretty hot when I went, I probably should've started earlier in the morning to avoid the afternoon heat at the lower elevations. There is a decent amount of shade available on the route,especially the lower elevations, that helped a lot. The road of the Blue Ridge Parkway was in good condition which was particularly helpful on the descent. The lack of shoulder on the road was not a big deal because cars were not going to fast and give you space. This is certainly worthy of it's top 10 scenic climbs ranking. Definitely do it if you have the opportunity.
Mar 9, 2021
KrisLJames262
Have done this climb in March and in late May. Much better scenery in late May but a lot more people and traffic also. Great switchbacks early on and just enough descent midway through to get the legs back under you. Make sure to take bike the final way up the sidewalk at the summit for the photo op.