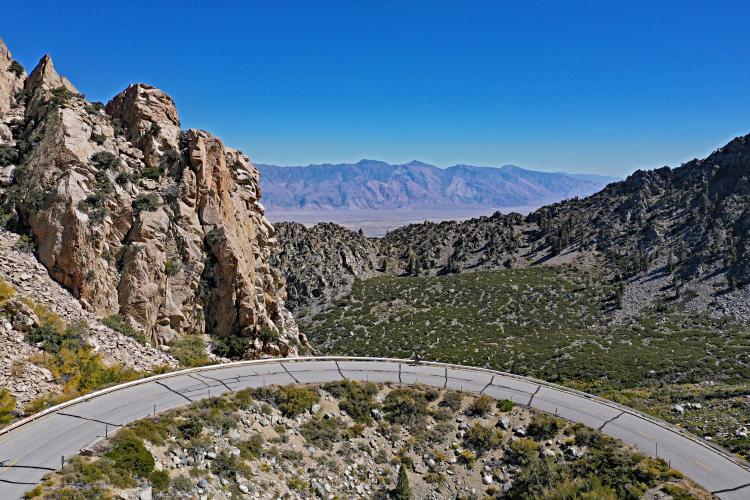 INTRO
Onion Valley Road is rated the most difficult bike climb in California. This magnificent climb is located in the the heart of the Owens Valley which, with a base elevation of 4,500' and surrounded by multiple 14,000', peaks is one of the deepest valleys in the U.S. The Owens Valley is a mecca for road bike climbing and boasts the greatest concentration of Top 100 Climbs of any other area in the country. This bike climb is worth the trip to its relatively remote location.
ROUTE MAP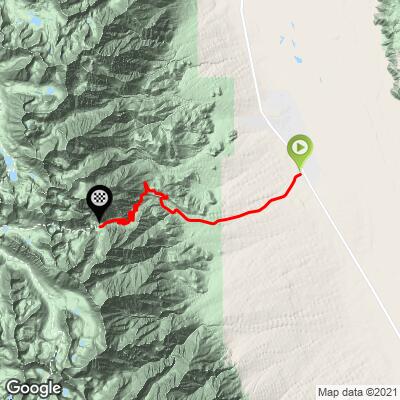 ---
PJAMM TRIPS ADVENTURE STARTER BUNDLES
Check out
PJAMM Adventure's
prepackaged (self-guided) cycling trips. They will help you plan, document and conquer your next adventure.
NEARBY CLIMBS (0) RADIAL PROXIMITY
FROM
---
MEMBER REVIEWS & COMMENTS
Let us know what you thought of this climb. Signup for our FREE membership to write a review or post a comment.
Already have an account?
LOG IN HERE
---
Tough but not quite a soul destroyer. If you're used to the Owens Valley mountain riding where there's constant perpendicular cracks along the road, you'll feel right at home :) I rode 700x28 tubeless and wished I had *a little* bigger tires on the way down with the bumps, but it was still fun!
Sept 8, 2023 Yep - a long, arduous, steady grind. Wonderful switchbacks and great scenery. Easy to get into the "climbing zone" with the route being all up-hill. But ... the decent. Uggggg. Widest cracks I've ever seen on a road - mostly at the bottom ½. They were jarring on the way up ! And 3 cattle guards. Lots of sandy areas on the road due to repairs from flooding. The cracks - on the way down, after the last switchback, my hands were exhausted from braking and bunnyhops so I just went no-braking and was able to ride full speed down and cross the big cracks without jarring. The climb was magnificent but the decent was no-joy.
Oct 26, 2022
UltimateExposure
So if you are looking for a good and hard climb then this is it. Even if you climb a lot this is a challenge because of the altitude you start at and end up with. Now when you start you might be thinking this is not that bad well don't let that trick you because once you get to 6.5 miles or so the first set of switch backs are above 10 and then you never really see that 6 or 7 again. So be ready. Bring something warm for the ride back down. We would tell you to have a car waiting for you at the top. The road all the way has big cracks all the way across it and then ones that are filled in makes you feel like you are hitting speed bumps every 10 to 15 ft. It would be a amazing and fun downhill if the road was not shit. But overall good. Tomorrow we do Horseshoe so hopefully that will be better but it is only 20 miles from this one so we are not holding our breath
Haha, saw your comment about hoping Horseshoe Meadows pavement is better...it's terrible. I've never done OVR so cannot compare, but I cannot imagine you'll like HM pavement. So many steep and tight braking points on that rough pavement, joint cracks everywhere, scattered pebbles & rocks to deal with, oh, and 2,000' and 3,000' drops right off the road edge! Also possibly super windy. If you can, try Whitney Portal next door, that pavement is glass smooth and the descent is amazing!
Jan 29, 2023
UltimateExposure
We actually climb all the top 10 climbs and yes Whitney Portal and we loved that one.
My wife & I did this climb in mid-April and consider it perhaps the most amazing ride in the country if not the world (and we live in CO & have ridden in the Alps & Pyrenees). PJAMM half-jokingly? drew a visual comparison between OVR & the Stelvio. I rode the Stelvio from both sides & believe OVR is an equally (or more) amazing experience in all ways except for "switchback mania". The scenery looks more rugged & felt more "close in", the views both up & down are always there & changing, the mystery of where up this ever-narrowing canyon does the climb end drew me in like a "tractor beam", and the quiet solitude felt more "out there" & put me into a zen-like state. True the challenge is very real (like somewhere between Ventoux & Stelvio "real"!) but the visual feast helped to moderate the scary stats and make the relatively short 13mi. go by fast. The stunning images of OVR will forever bring me joy. Thank you PJAMM for helping to make this ride possible for us.
Onion Valley Road is a great climb if you like steady grades and lots of scenery. Every time I do it, I think I'm not going to make it during the middle part that is quite steep but then it lets up just enough to keep going. This is tougher than any Tour de France climb I have done (because of the altitude) and can make for a challenging day when paired with Whitney Portal and especially Horseshoe Meadows. Is it harder than White Mountain or Horseshoe Meadows? It depends on your personal preferences; both those other climbs have more variable grades so they are shallower and steeper. OVR is an unrelenting grind for two hours (well, at least for an old man at 190 watts :).
Coming from sea level this was a pretty tough climb. The 9% grade is fairly constant, complicated by the elevation. Temps at the bottom were about 80 degrees but cool enough at the top that vest/arm warmers were needed for the ride down. Hydration is key given the lack of cover so lots of sunscreen is a must.
Climbed Onion Valley Rd today (5/31/21). I started at 7 am to avoid the heat. The climb is definitely tough but with good pacing, it is management. I stayed at Independence which is very convenient. The views are awesome which helps motivate a solo rider like me.
Great scenery throughout. Cars weren't an issue. I would divide this climb into three segments... first segment 1-3 miles easy warmup, second segment 3-8 miles HARD, third segment 8-13 miles much easier than the second segment with a few steeper section but pretty consistent grade. Pavement has cracks across the road for almost the entire 13 miles every 30 yards. It is the worst around 7 miles in which you definitely feel on the descent. This is NOT the hardest climb in California but if people want to think that it is than that is all good!
Apr 30, 2021
carlinguernsey
Onion Valley is definitely among the harder climbs in the US, and also compares well to some of the tougher French climbs. Once the gradient kicks in, it never really lets up. At least it's constantly steep, so you can get into a rhythm!