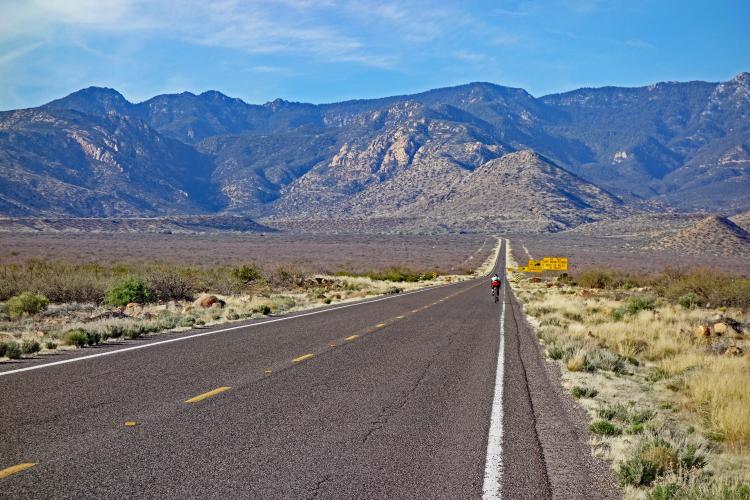 Page Contributor(s): Bo Jensen, Syracuse, NY, USA
INTRO
"Mount Graham, located in the arid and lumpy southeastern part of the Grand Canyon State, is one of the most difficult climbs in scenic Arizona. While the paved road does not reach the very top of the hill it does reach up to high altitude. The route ascends the steep east side of one of the many large island mountains in the area and which are quite dramatic. Never particularly steep, the climb's length and solid grade will make most riders work to reach the listed summit." (This quote is presented with the approval of John Summerson, from his book, The Complete Guide to Climbing (by Bike), 2nd Edition, pg. 128.)
ROUTE MAP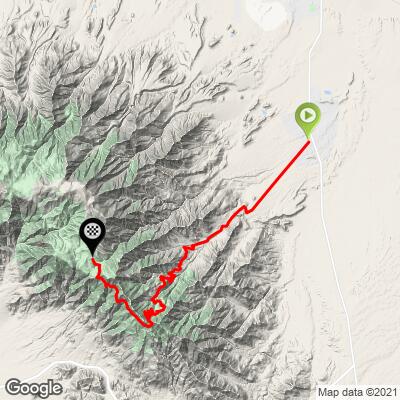 ---
PJAMM TRIPS ADVENTURE STARTER BUNDLES
Check out
PJAMM Adventure's
prepackaged (self-guided) cycling trips. They will help you plan, document and conquer your next adventure.
NEARBY CLIMBS (0) RADIAL PROXIMITY
FROM
---
MEMBER REVIEWS & COMMENTS
Let us know what you thought of this climb. Signup for our FREE membership to write a review or post a comment.
Already have an account?
LOG IN HERE
---
Magnificent adventurous climb with no traffic. Mauna Kea was harder, very different, but so satisfying. If you are anywhere in Arizona and love climbing by bike, man… do it.
Sept 15, 2023 A wonderful grind from hot to cool. First ½ of the climb is full sun, desert-like. 2nd ½ is partial shade, excellent switchbacks, evergreens in high Alpine setting. Finish is a bit mehhhhh with just a parking area. Decent down top 3 miles is a blast, but ... then the road becomes very rough and very jarring for the next 12 miles - uggggg. Then gets better for the straight shot back to the start. No water available.
Beautiful climb, peaceful , very little traffic and no other bikes on the mountain. Loved the many switchbacks. Has did Mt. Lemmon the day before and I will affirm that this ride was harder. People are missing out if they don't ride this while in the area. Descending was bumpy due to road but still fun.
My wife & I did this climb in early April during a car trip to CA. We loved it and consider it one of our top climbing experiences in the country if not the world. It was our #2 favorite ride of the trip (Onion Valley was #1). It was spiritually majestic due to how contemplatively quiet it was especially through the forested upper switchbacks (along with some vibes from this being a sky island sacred to many native SW people). Even though this is a long strenuous climb the scenery and emotional experience (along with lots of training) added enough exhilaration to mostly overcome the trepidation of the stats alone. OTOH the road surface is marginal (I called it "more chip than seal") with many sections decomposing into gravelly potholes. Therefore the descent was a far-less enjoyable "go-slow and stay-focused" grind. But the images of this climb (along with Onion Valley, Stelvio & a few others) will forever bring me joy. Thank you PJAMM for helping to make these climbs possible for us.
Apr 10, 2021
carlinguernsey
The gradient is never too bad on this climb, but there are some steeper parts on the lower slopes. It can be very warm some months of the year. Fortunately, there are trees for much of the upper part of the climb. It is also long. Take food and water with you as you won't find any along the way. The scenery is good when you have a break in the trees. This climb can be done from Tucson as a long day trip, but you can also stay in Safford and ride from there.
I'm planning to do this climb at the end of September. A quick question if you don't mind. Did the altitude have any effect on you? Did you climatize yourself in advance? Sincerely, tom
Sep 8, 2021
carlinguernsey
I didn't notice any issues with altitude. I have attempted it twice, both times coming from sea level. I had a few days in Tucson first (Kitt Peak, Mt. Lemmon, etc.) that may have helped some with the altitude. The first time I tried it, the temperature was in the 90s and I overheated. I suggest going early in the day if it's warm (and put lots of ice in your bottles).
Good to know. Thank you:-)
Beautiful and challenging ride. Road has loose gravel on some of the hairpins - be careful descending