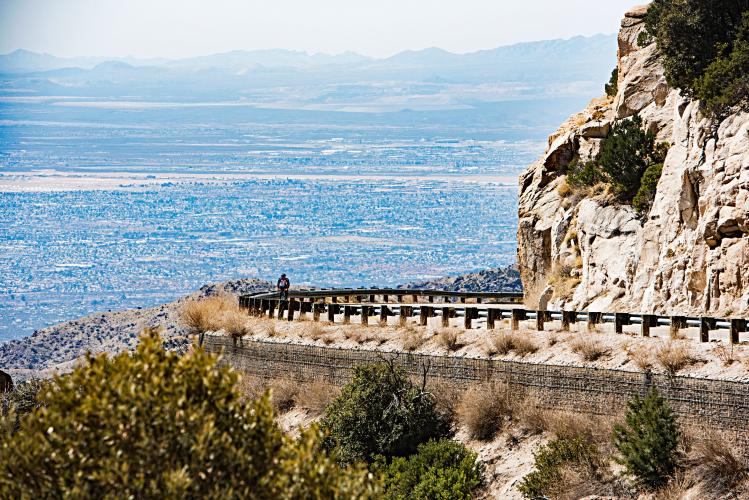 INTRO
Mt. Lemmon is the longest bike climb and second most challenging in Arizona (after Mt. Graham). This is also one of the most, if not the most, popular road bike climb in the US. Unless you ride it in a snow storm or heat wave (though that's relative for AZ), you'll always encounter many cyclists along the climb. Some of the fun and unique points of interest on this bike climb are: (1) thousands of saguaro cactus during the first miles of the climb, (2) amazing hoodoo formations, (3) spectacular views at Windy Point at mile 14.7, (4) observatory buildings at the top, and (5) the Cookie Cabin in Summerhaven just off the main climb route.
ROUTE MAP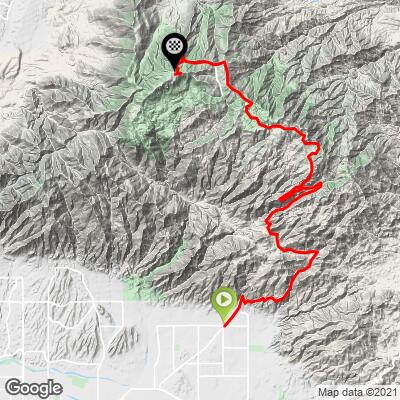 ---
PJAMM TRIPS ADVENTURE STARTER BUNDLES
Check out
PJAMM Adventure's
prepackaged (self-guided) cycling trips. They will help you plan, document and conquer your next adventure.
NEARBY CLIMBS (0) RADIAL PROXIMITY
FROM
---
MEMBER REVIEWS & COMMENTS
Let us know what you thought of this climb. Signup for our FREE membership to write a review or post a comment.
Already have an account?
LOG IN HERE
---
Sept 14, 2023 Wonderful climb. Started at the Le Buzz parking lot. This is not a steep, hard climb - steepest section is the last 1½ miles up to the observatory. I rated this climb "strenuous" because of the length - 31 miles from Le Buzz. The road has developed numerous jarring cracks and some very rough spots so be aware on the decent. Water available at the Bigelow parking area on the right side just before the visitors center on the left.
Did the ride in late April on a Tuesday. Started from the Safeway at around 7:30 and was at the top by 1:30. Traffic was light and the road was excellent for cycling even though there's not much of a shoulder. I thought the first half up to Windy Point was more difficult than the second mainly because it was hotter. The grade was never particularly steep other than the last couple of miles to the radio towers. Lots of good scenic viewpoints long the way. If I did it again, I would get an earlier start to get to the higher elevations before the heat.
Mt Lemon is a great climb. It is relentless (little to no break from climbing) but beautiful and the road is relatively smooth (6 out of 10 for me). One word of caution... plan on 20 degrees difference from bottom to top. I started early (April 4 2023) with unseasonably cold temps in the low to mid 50s in Tucson and hit the 30s above 7000 ft. Add heavy winds, getting stronger as I climbed. I carried a lot of gear (e.g., two layers of gloves, shoe covers, heavy jacket) and I wish I had more. Also, I am a heavy consumer of water and I was able too make it with three bottles... consumed one full bottle before I departed and carried two large bottles on the bike. Enjoy!
Road early morning, weather was nice. The climb was beautiful, the views were exceptional. I found the climb challenging yet exhilarating. The cookie cabin is definitely worth a visit. I did Mt. Graham the follow day and I do agree that Graham is a harder climb. Both rides are exceptional but I don't think Graham gets the love it deserves. I was the only cyclist on Graham that day. I found Graham to be a more satisfactory ride. It you have the time , Graham won't disappoint.
What a great ride! Wonderful scenery. Manageable grade. I agree with all of the previous comments; I just wanted to add one thing. There are lots of speedy cyclists on this route. They stink at announcing when they pass you. If you're a casual rider who wants to stop and take pics, be careful of speedy cyclists!
We did this climb in early April the day after Mt. Graham (see my review). Yes it is a must-do but for various reasons I was not mesmerized by it vs. Mt. Graham and Onion Valley Rd. (we did the latter a week later). Maybe doing this right after Mt. Graham was a bad idea (I felt physically fine but perhaps my brain was still saturated by the magnificence of Mt. Graham?). I found the scenery unique and ever-interesting but not majestic. On the plus side it seems easier than the stats would indicate due to the grade, ever-changing scenery, and the camaraderie of the stream of cyclists you can chat with, though the length does eventually turn it into a grind if you let the challenge alone get to you. We also had some horrific 20mph+ winds right out of the gate which may have been the real reason why this review sounds a bit "grouchy". Ignore this grinch and do this ride.
Rode the entire way to the top on Dec 1st 2021. Tough tough ride, but well worth it. Climbed through several eco zones from desert through pine forest. Traffic was light and considerate. Water at Mt. Biglow trail head parking lot. Visitor center was not open when I passed. Be sure to get a cookie at the cookie shack, part of the tradition.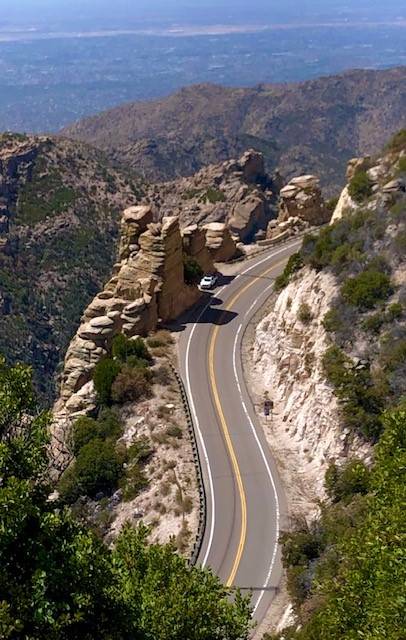 I flew from CT to AZ this past April 2021 just to climb Mt. Lemmon. It does not disappoint. A very manageble 28 mile climb to the observatory, and never too steep but for the last mile or two. Several safe places to stop and rest or take pics along the way up. You start surrounded by cactus, and by the time you approach the upper half and above it turns to mountain conifer trees. Even got a bit of snow on the side toward top. Recommended climb for sure.
Its a long climb but the grade is not difficult. Its a lot of fun though. Amazing Arizona views and there were a ton of cyclists out (March 2020). Fun descent too.
Rode from Le Buzz to Summerhaven on May 14, 2021. This was my second climb on Mt. Lemmon, the last one being in May 2019. Epic ride. Stunning scenery. You start in a forest of saguaro cactus and climb to an alpine meadow. In between are incredible hoodoo formations. Just went with 50/34 compact and that worked fine for me, but I was just spinning my way to the top and not pushing it hard. Oxygen concentration in the air we breathe drops from 19% at 2,500 (at the base) to 15.4% at 8,000 feet. It was hot when I rode, 25 degrees hotter than the same time period in May 2019. Some rest facilities were closed, I think because of the pandemic? Saw many terrific road bikers on the way up, all of whom easily passed me and many of whom were much older. Inspiring. And humbling. Stopped for a slice of peach pie in Summerhaven. Hope to ride again next year.
I climbed Mt. Lemmon for the first time on 5/1/21. The climb and the scenery as awesome as advertised, nothing short of breathtaking. The forecast called for upper 90s heat from midday on, so I left from the Le Buzz parking lot at just after 6 AM to make sure I was at a higher elevation by them time it started to get really hot. That strategy worked really well and made for a very pleasant experience. The grade from the beginning on was very constant. I rented a road bike from "Tucson Bike Rentals" that had a 32t cassette which I found to be perfect. THIS CLIMB PAGE MENTIONS THAT THE PALISADE VISITOR CENTER IS OPEN 7 DAYS A WEEK, BUT IT WAS CLOSED ON 5/1/21 WHEN I WENT. I had planned on refilling my water bottles here, but couldn't as a result. It turned out fine since I brought a 3rd bottle. Maybe call ahead to see if they are open or not to plan accordingly. The sky observatory was not open, but was visible on 5/1/21 Traffic was light on the way up, but heavy coming down.
The constant water source is not at the visitor center but just a bit below it at the Mt. Bigalow trail head parking lot. Facet is right in front of the toilets.
Apr 30, 2021
SpeedyBlueBiker
Rode up Mt. Lemmon on Wednesday, 27 April 2021. The weather forecast wasn't the best. Clouds and 49 degrees at the top. Left the Safeway parking lot at 10:30am and it was 55 degrees. Climb is long and just keeps going. It was quite windy out. We had crew support as one of our newer riders wasn't really fit to take on the whole mountain so just rode part way and then returned. At the 6000ft level it was all clouds and the temperature was dropping. At 7000ft we got a few flakes of snow. By 7500ft it was a full on snowstorm. We rode on to 8000ft but now it was really coming down. The temperature was at 32 degrees. We had two incidents of thunder and lightening and the snow was now sticking to to the road. This is where we pulled the plug and put the bikes in the van and started down. Fun but very tiring day.
Long but worth the effort. Climbed to top on 4/22/21. Some stretches pretty windy and then you'd go around a curve and wind died down, most of the upper mt was that way. I'm not from area and given the elevation I thought that was probably typical but I was speaking with 2 local bikers and they complained about how windy the day was. The last several steep miles were definitely a challenge after completing so many miles but for me maybe the hardest part of the day was the 2 mile, not very steep, climb on the return trip. I think my body just rebelled when asked to do a little more climbing. Scenery was spectacular loved the Hoodos which were amazing.
Climbed on an early Tuesday so traffic not bad. First 16.5 miles are (especially) the star along with the last 4 miles up to the observatory via Ski Run. Gate up the final steep run to the observatory open 4.13.21 along with newish pavement on that 1.5 mile stretch. Substantial bike lane both sides nearly the entire road up to Summerhaven.
Apr 10, 2021
carlinguernsey
This is another climb where the gradient is never too unmanageable, but the distance (and maybe heat) wears you down. Some of the worst gradients are up to the ski area at the top and above. The final road segment up to the very top was in bad condition when I did it. As you get lower on the descent, it can feel like someone is pointing a hair dryer at you! Take plenty of water with you.
4/2/21 was my first time climbing/descending Mt. Lemmon and it was amazing. I lived in Tucson in my 20s after undergrad and had driven/camped the Catalina Hwy many times, but there is nothing like riding it! My climb began at dawn from a central Tucson VRBO at 65 degrees. Was a bit windy from the east with sustained winds of 16 mph and gusts in the high 20s, making the initial climb a bit dicey. Wind calmed as I made it to the interior of the range. I met a local legend (John Timbers) at Windy Point. Surprisingly, the temp was also 65 degrees when I arrived at Summerhaven (never had to unpack my windbreaker). The descent was exhilirating and upon my return to the desert floor, the temp had risen to 94 degrees (perfect for a post-ride dip in the pool at our rental house). Gotta say, Tucson's done it right with its commitment to cycling - seems every major road in the city (but for the Tucson Mts.) has a nice shoulder lane. Can't wait to ride Lemmon again, as well as Graham and Kitt!
the last 1.6 miles to the observatory is past a gate that is locked between December and March 1, and periodically thereafter. it was locked yesterday (April 1). i was able to walk my bike around the gate. the views are sadly even more spectacular after last year's fire.
I saw the gate was locked on 4/2/21 as well.
Has bike lane all the way up, great views!
Mar 18, 2021
bojanglesjensen