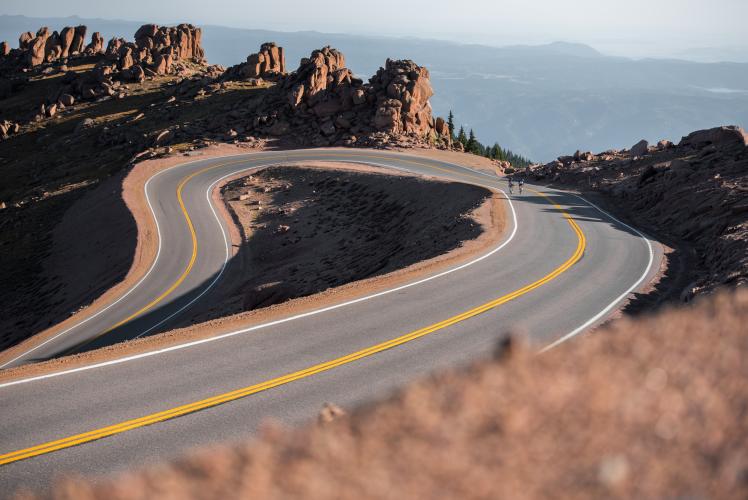 Photos By: Maxfield Bonta
Page Contributor(s): Bruce Hamilton/Stacy Topping
INTRO
The Pikes Peak climb, part of the Rocky Mountains in Colorado, is one of the most incredible climbs, period. This mountain is easily one of the most famous in the country and world. Every year more than one million visitors travel to Pikes Peak; after Mt. Fuji in Japan, this is the second most visited mountain on earth.

"It is certainly unusual these days when a brand new paved climb is available and in particular one of the very most difficult in the World. Such is the case for Pikes Peak as its fearsome upper half has now been paved all the way to its summit beyond 14,000 feet...Be prepared for this one as well as it may be the only hill able to challenge Mount Washington as the most difficult in the United States." (Quote presented with the approval of John Summerson, from

The Complete Guide to Climbing (by Bike), 2nd Ed.

, p 170.)
ROUTE MAP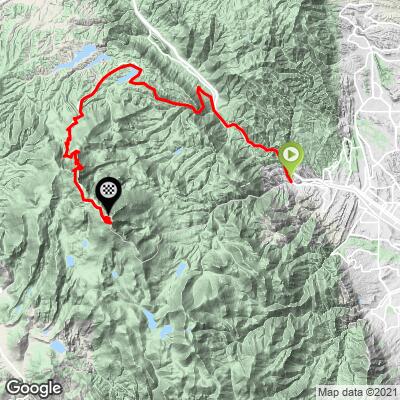 ---
NEARBY CLIMBS (0) RADIAL PROXIMITY
FROM
---
MEMBER REVIEWS & COMMENTS
Let us know what you thought of this climb. Signup for our FREE membership to write a review or post a comment.
Already have an account?
LOG IN HERE
---
What a climb. I parked at "Fields Park" in Manitou, where the parking was free, and rode a few minutes to the roundabout. As advertised, the traffic on Hwy 24 was uncomfortable, with the shoulder completely disappearing in favor of a rock-face at times. I rode on a Wednesday morning, and the highway traffic was heavy. Once arriving at the toll gate, all was well and the climb was a steady slog in my lowest gear as my sea level power was cut by about 70%! It was truly a great, epic climb, with amazing views, switchbacks, and the fall leaves. I highly recommend this climb, although the summit has become far more commercialized than in the past, with a huge paved parking lot and fancy new glass buildings.
Thanks to this site and the comments. I rode Pikes Peak from Manitou Springs yesterday and Mt Evans today. I left 7AM and found the traffic on 24 fairly sparse since it was Sunday. The traffic on 24 was quite heavy on the return trip. A car in front of me paid my entrance fee ($20) which was a good start to the day as he thought I had a tough day ahead of me. I found the drivers on the climb were quite courteous, patient, and supportive. It was a bit tough above 12K ft with the altitude (arrived from the east coast the day before) and 9% grades, but took it easy. The winds were quite intense and only made the situation even rougher. I arrived at the top and it was packed with people… didn't get the donuts since the cafeteria was crowded. The descent is a lot of fun with the curves. Friendly tip, the stops within the park for beverages generally had water and soft drinks. I also rented a sweet bike - Specialized Tarmac Pro from Specialized Boulder. Overall, it was a great experience!
Aug 18, 2022
johnnywaynethompson
This year, I skipped the section from Manitou Springs and started at Santa's Workshop. Smart move. Hyw 24 has very narrow bike lanes and, in some spots, they're non existent. Add gravel and debris and a notable incline along w highway traffic and the decision was made easy. That said, Pikes Peak is never easy. Unlike previous reviews, my ratings on traffic and road conditions are higher due to the new start location.
Wow! Had this climb on my bucket list for a while so I flew in from Southern California day prior and man this climb was a beast! First half of the climb gives the false impression of what's to come and once you hit the second half it's hard! I usually spin up mountains but I couldn't get my cadence over 65 for the last ten miles in my 53-30. The relief once I got to the top was awesome and totally worth it! Got many cheers and motivation from cars and at the top many people in disbelief that people can make it up on a bike! As for the altitude, you will most definitely feel it if you are not acclimated but that being said it definitely do able! Good luck and don't forget to bring 15$ to get through the toll.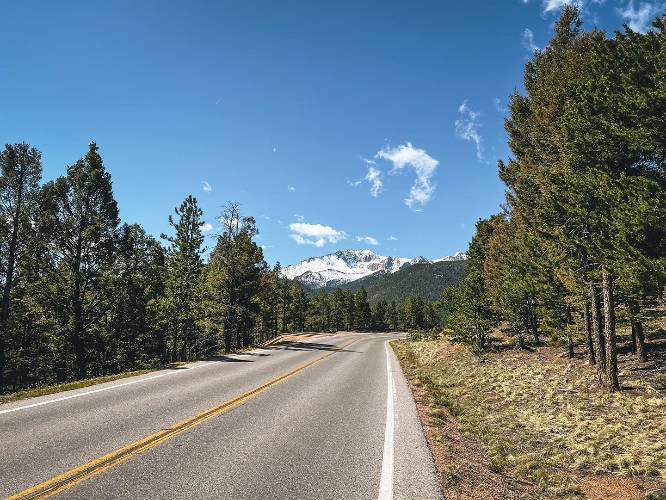 Recently did this climb from the toll station (road traffic from Manitou looked very heavy and I didn't want to add extra stress to an already long day). Only had a day to acclimate from sea level (Atlanta) but I've spent a decent bit of time at altitude and figured I'd give it a shot anyway. As all of the other reviews mentioned, this climb is flat out hard. I was on my gravel bike (as it packs/travels much easier than my road bike with an integrated cockpit) with "easy" gearing (44T front, 10-52 AXS mullet rear) but nothing about this climb ever really felt comfortable, even with that gear. Traffic was reasonably light (Tuesday morning around 9am) and the weather was cold for this time of year (started in the 30's and got even colder and winder as I got higher up) but the views made it worthwhile. Took my time and eventually made it, then tried to enjoy the descent back down but even that was difficult due to the cold. Definitely the hardest climb I've done but so worthwhile!
I started in downtown Colorado Springs ... which might have been a mistake since my fatigue level increased rapidly once I finally reached the steep sections. The hardest climb I have ever attempted. I had a compact on the front with a 32 in the back ... and I really wish I had more gears. After competing in Leadville three times I thought this might be moderately easy. False assumption!! Bring tiny gears, be ready for some serious wind for the last 5 miles and take some breaks near the top. The views are amazing, so take a shot and dig deep. The summit is worth the pain.
You nailed it. I could not agree more. I rode it from Cascade. It's hardest at the top with the cross winds and incline on the hairpins. Thanks for admission of true difficulties. I did Evans after Pikes with only a day or two between and Evans almost was easy , it felt much more safe and doable. Probably should do them 1st Evans then Pikes if in the same week for mental health reasons if nothing else. I just failed a attempt on Trail Ridge from Loveland a week ago. But the afternoon leaf traffic my ability to hold a line. Geologically those mountains will always be there let's keep our abilities to attack them later. No need to beat one's self up. If it's epic it is still a epic even when it's a 80% achievement. Stay safe compadres!
While the FIETS score says this is 'easier' than Haleakala, I argue that it isn't. The significant increase in grade compared to Haleakala( I am not saying Haleakala is easy by anymeans!) will have you pushed up against the limits much more than the more gentle Haleakala. This is a fantastically hard climb. If you enjoy climbing, this has to be on your bucket list!
This was my Bucket List climb. The previous two days I rode the Trail Ridge Road thru RMNP and the Copper Triangle route so I was a little nervous about tackling this beast but my legs were feeling good. Being 55, 6'2-210 lbs I knew my work was cut out for me. I started from Manitou Springs and must confirm what others were saying about the road and traffic but is definitely the must do route for the climb. The day of the climb. 7-22-21 , the weather was fantastic. The climb definitely is beastly. The road thru the park was in great shape, traffic was heavy at times but everyone gave me space and quite a few were encouraging. I found my cadence and dieseled up the mountain for an experience of a lifetime. Definitely will be back.👍
What gearing did you run. We're about the same in size. I'm going 9/25/21 and I'm running a 39/28.
I'm running Sram AXS Red with 46-33 up front ,10-33 in the back. For me it was definitely nice to have a one to one ratio especially if your a bigger guy. Didn't need 33 as much as I thought I would but definitely nice to have it at times, good luck with your upcoming climb
34x34 was what I had. I'd at least go with that. First time I was in Colorado biking , back in early 80s, I had 42x21. So If your age is also that second number then that should work. With freaky winds up top had I a 26x42 MTB gear appeared I'd jumped on that. Up where winds put you into oncoming traffic on the switches above 12k anything lower than 1x1 could really help. They're predominantly headwinds with gusty direct crosses where curve and ridge edge exposes view to SW. never experienced anything like it. I predict, with cycling demographics, gravel, and people's cycling tastes. ... At some point if any 2X cranksets remain in grouppo specs 34x36 or even lower will be the new 1st gear thing. Modern Rear derailleur technology is certainly capable of it. Over the past 40 years we owe MTBs for these gear tech improvements.
Toughest climb I've ever done and so worth it. If you're starting at the bottom, keep in mind you're basically riding on a highway for a few miles. We had to wait in line with cars to pay the toll (Aug 2020). Extremely challenging as you get into altitude. We stopped at the rest area/ Visitors centers mentioned for a break and water. For the last few miles it seems like it was always 11%+ grade. It was hard to take a drink from my bottle because at that altitude and grade I was working so hard to keep upright and taking a drink meant losing a breath and then panting in the thin air to catch my breath. I was relived when it went to 10%. Was much colder and raining once we got the the top. One of our guys hitched a ride down while the rest of us descended in the rain. Was not a fun descent with the slick roads, cars and rain on that grade.
Having climbed most of the epic mountains in France and the U.S., Pikes Peak proved to be the hardest for me. I live in "flat" Minnesota and PP's altitude was a marked challenge. Traffic is fine if one begins the climb early in the morning. Wait until the afternoon and it's considerable. Hence my overall traffic rating as a 3. There's water available about halfway up. High up, there are pull-offs available if one has to find a place to put a foot down for a spell. I normally refuse to stop on long, tough climbs but for this one, I had to put a foot down twice. Even then, I was proud of myself. Unless you live at altitude, this climb will challenge the best of you. Give it full respect on the way up. And enjoy the decent of a lifetime on the way down!
Don't do this if you haven't done a few HC's before, preferably at altitude. Start early if you do the full climb from Manitou Springs, and don't be afraid to stop for food at the two lodges on the way to the top. that being said, if you have the opportunity, take it. It's a beast and it's worth it.
This has everything you want in an epic climb. Super high, steep, and long. The pavement is fantastic. I enjoyed just about every moment of it, and I have plans to do it again. Be aware that highway 24 can be sketchy (between Manitou Springs and Cascade). The traffic speed is high and some sections of the road have zero shoulder. I had a bus pass me with the canyon wall inches away on the other side. If you start extra early, traffic on 24 may not be an issue. Once you're on the main climb, traffic is much nicer.
I've done this several times -- both as the hill climb fondo and all the way from Manitou Springs. I highly recommend doing the full climb. The first few miles on the highway are the scariest part! The climb itself is great and continuous. There's a short break about 4K from the top, which is nice. The last mile is the toughest! Both because you're at 14,000 feet and because it is so steep. The descent can be scarily fast, so keep in control. The switchbacks come fast when you're on your way down. Love this ride.
Mar 9, 2021
KrisLJames262
A MUST do. Train seriously before attempting. Be prepared to pay at the toll gate even if on a bicycle. Can be extremely windy above the tree line. Massive temperature change from downtown Manitou to the summit. Amazing experience.
An amazing climb. The road is in great shape. The first few miles riding from Manitou Springs had a lot of traffic and felt a little hairy at times, but after that it wasn't bad. The last 10 miles were a grind, but worth it once reaching the top. However, be really careful coming down as it is easy to pick up too much speed. And be sure to check your brakes!!! My brakes gave out and I actually ended up crashing. I wasn't hurt as bad as I could have been, but was still pretty beat up. Be safe out there!