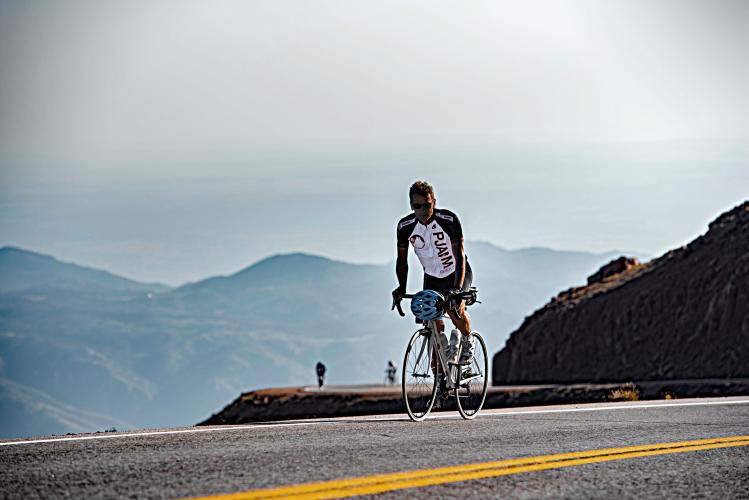 Photos By: Maxfield Bonta
Page Contributor(s): Bruce Hamilton/Stacy Topping
INTRO
The Pikes Peak climb, part of the Rocky Mountains in Colorado, is one of the most incredible climbs, period. This mountain is easily one of the most famous in the country and world. Every year more than one million visitors travel to Pikes Peak; after Mt. Fuji in Japan, this is the second most visited mountain on earth.

"It is certainly unusual these days when a brand new paved climb is available and in particular one of the very most difficult in the World. Such is the case for Pikes Peak as its fearsome upper half has now been paved all the way to its summit beyond 14,000 feet...Be prepared for this one as well as it may be the only hill able to challenge Mount Washington as the most difficult in the United States." (Quote presented with the approval of John Summerson, from

The Complete Guide to Climbing (by Bike), 2nd Ed.

, p 170.)
ROUTE MAP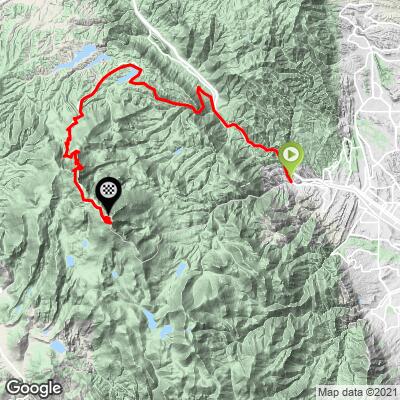 ---
NEARBY CLIMBS (0) RADIAL PROXIMITY
FROM
---
MEMBER REVIEWS & COMMENTS
Let us know what you thought of this climb. Signup for our FREE membership to write a review or post a comment.
Already have an account?
LOG IN HERE
---
Don't do this if you haven't done a few HC's before, preferably at altitude. Start early if you do the full climb from Manitou Springs, and don't be afraid to stop for food at the two lodges on the way to the top. that being said, if you have the opportunity, take it. It's a beast and it's worth it.
This has everything you want in an epic climb. Super high, steep, and long. The pavement is fantastic. I enjoyed just about every moment of it, and I have plans to do it again. Be aware that highway 24 can be sketchy (between Manitou Springs and Cascade). The traffic speed is high and some sections of the road have zero shoulder. I had a bus pass me with the canyon wall inches away on the other side. If you start extra early, traffic on 24 may not be an issue. Once you're on the main climb, traffic is much nicer.
I've done this several times -- both as the hill climb fondo and all the way from Manitou Springs. I highly recommend doing the full climb. The first few miles on the highway are the scariest part! The climb itself is great and continuous. There's a short break about 4K from the top, which is nice. The last mile is the toughest! Both because you're at 14,000 feet and because it is so steep. The descent can be scarily fast, so keep in control. The switchbacks come fast when you're on your way down. Love this ride.
Mar 9, 2021
KrisLJames262
A MUST do. Train seriously before attempting. Be prepared to pay at the toll gate even if on a bicycle. Can be extremely windy above the tree line. Massive temperature change from downtown Manitou to the summit. Amazing experience.
An amazing climb. The road is in great shape. The first few miles riding from Manitou Springs had a lot of traffic and felt a little hairy at times, but after that it wasn't bad. The last 10 miles were a grind, but worth it once reaching the top. However, be really careful coming down as it is easy to pick up too much speed. And be sure to check your brakes!!! My brakes gave out and I actually ended up crashing. I wasn't hurt as bad as I could have been, but was still pretty beat up. Be safe out there!