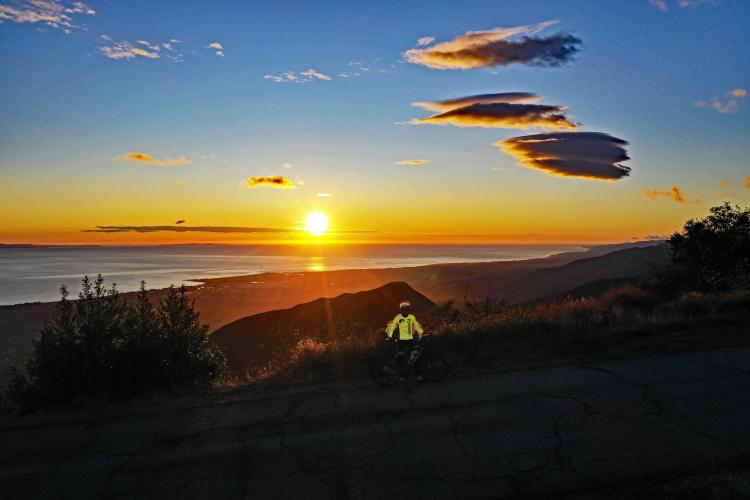 Page Contributor(s): James Badham, Santa Barbara, CA, USA
INTRO
This is the hardest bike climb in Santa Barbara County with exceptional views of the Pacific Ocean along the climb. We really enjoyed riding up, as well as sunrise and near sunset - seeing either from the peak is stunning. If you have only one climb to do in the Santa Barbara area, do this one. Be cautious on the descent as there have been many serious cyclist vs. vehicle accidents on this roadway.
ROUTE MAP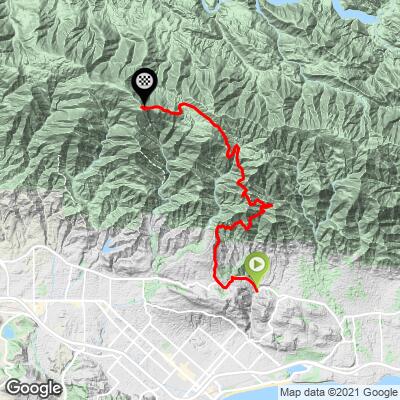 ---
PJAMM TRIPS ADVENTURE STARTER BUNDLES
Check out
PJAMM Adventure's
prepackaged (self-guided) cycling trips. They will help you plan, document and conquer your next adventure.
NEARBY CLIMBS (0) RADIAL PROXIMITY
FROM
---
MEMBER REVIEWS & COMMENTS
Let us know what you thought of this climb. Signup for our FREE membership to write a review or post a comment.
Already have an account?
LOG IN HERE
---
My favorite climb and descent in So Cal. Continue to La Cumbre Peak for a great view. As of January 2023, the road has been devastated by the storms and the road is closed. You can get away for biking it for now but when/if they do repairs it will be tricky. This climb is magical and worth traveling for.
To preface, this climb is world-class in both difficulty and views. It's a must-do if you're anywhere near the area and it warrants a special trip to climb it. That being said, it's a great climb, but a better descent. It's tucked into the mountains so it can get much hotter than it is in Santa Barbara-especially in the summer. The fairly constant gradient is nice but it can get a little monotonous. On the descent, neither of these are a problem anymore. The surface of the road is immaculate which makes you feel as if you're gliding. The descent is technical, but with some attempts you can feel quite confident on the turns. If you choose Gibraltar instead of OSM, I'm going to suggest something different: turn right instead of left when you intersect with East Camino Cielo. Go down the road until it turns to dirt and then come back the way you came. It's a beautiful hidden gem that's often overlooked even by people who know about the route between Gibraltar and Painted Caves road
My wife and I did this in early April during a road trip to CA. As a CO resident the scenery was uniquely breathtaking (but not too physically "breathtaking" coming from altitude...thank you). It's quite pitchy which makes the steepest parts feel even steeper and definitely requires a good amount of training on steep climbs (we each did it on Fulgaz several times before making the trip). With that it wasn't that hard (I almost gave it a "Challenging" rating rather than "Strenuous") especially since the short length coupled with the mesmerizing views begged me to savor it more slowly than on Fulgaz. This meant I didn't need to be overly concerned with over-cooking it (i.e., lactic acid build-up) or about keeping fueled up. And even at a faster pace the 1hr.-ish climb time (for some/most?) is right at the edge of needing to worry about any of that as long as you get in some good pre-ride nutrition. Yet another unforgettable memory that I must thank PJAMM for helping us with!
I've wanted to do this climb for years, and actually did most of it back in another lifetime (1981). We had driving rain and hail and I was suffering from a respiratory ailment. I think I may have had a fever even. Anyway, 41 years later at 73, yesterday I made it to the intersection with El Camino Cielo. I had the encouragement of my son, with whom my wife was pregnant back on that gnarly day decades ago. I have done most of the classic climbs up in Washington where I live. This rates as one of the hardest and best. I esp love the alpine feel you get up around 4 miles from Mountain Drive, where we start. Just know as you do the first 3 miles or so that the worst ( or best, depending on your masochistic index) is to come. I broke no records for sure, but loved it. Fantastic descent, but take major caution on the blind corners, some of which seem banked to send you into the wrong lane. There is little traffic, more bikes than cars. IMO, this is a must do for the climbing aficionado.
An absolutely stunning climb. Even on a cloudy day, once you break through the clouds, the sights are amazing. Rivals Glendora Mountain Road / Glendora Ridge Road for beauty. I did the out-and-back up Gibraltar, down Painted Cave, and then turn around and return. No regrets, but next time I'd likely just do Gibraltar. Worth doing the small radio tower climb at the end.
We did this climb in late September early in the morning on a weekday under a typical Santa Barbara marine layer. Great climbing temperature (59/60) for most of the climb. Road became wet and visibility reduced as we ascended through the clouds. Perhaps a half dozen friendly cyclists were on the mountain. Occasional traffic both directions, but not moving fast, and respectful of cyclists. Road is mostly in great condition and easily wide enough for traffic to pass. Broke out of the marine layer near the top and as we crested had great views to the East. Overall an awesome , challenging, fun climb. We descended via Painted Cave. Road surface is not great plus narrow in spots and includes many steep downhill switchbacks. We had traffic and mist. If it is your first time down this descent be cautious. My friend was riding carbon wheels with rim brakes and had issues getting enough braking power. If we ride Gibraltar again we'll probably descent back down Gibraltar to be safe.
Jul 1, 2021
gravelbikecalifornia
What a lot of people don't know is that after you reach to top of the main climb (past the cistern, Gibraltar Road continues down into Santa Ynez about a half mile up into some great dirt. There's a fire road right off of Arroyo Burro that'll take you back up to the top where you can end the typical loop down off of painted cave.
Fantastic. Watch for fast descenders. You can loop around back to Santa Barbara or continue for extended out/back.
I live near the base of Gibraltar Road. This is my favorite climb in the world. It is steep -- averages more than 8 percent -- and relentless -- just one downhill section. It is also a bit cruel -- it gets steeper the higher you go. But the views are spectacular. The top of Gibraltar Road is where it T-bones into East Camino Cielo. But you really should continue on East Camino Cielo to La Cumbre Peak. That's the highest point in all of Santa Barbara County. It is just 15-20 minutes further. In the second stage of the 2018 Egan Bernal did this climb in an insane time (27:12 min). That was at the end of a more than 100 mile stage! He went on to win the Amgen Tour of California, and the TDF the next year. So, as you pass the halfway of this climb in 30-45 minutes (like most riders), just know Egan already beat you!