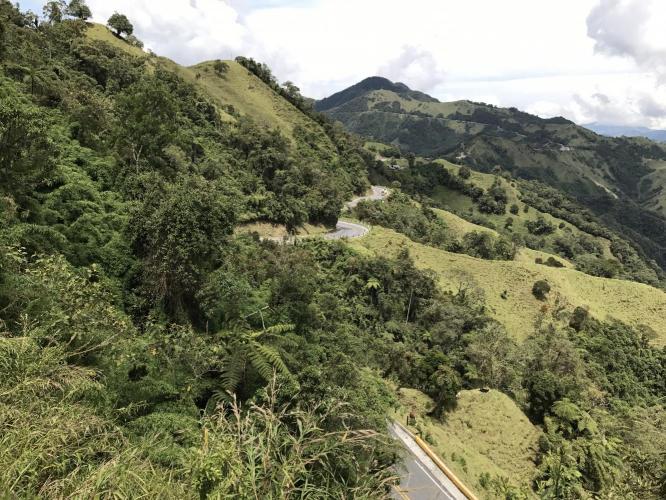 Page Contributor(s): Luke Hise, Phoenix, Arizona, USA
INTRO
Cycling Alto de Letras, Colombia - at 81.3 kilometers this is the third longest bike climb in the world behind #1 Mauna Loa, and #2 Wuling Pass East. This is one of the greatest bike climbs in the world and worth traveling to Colombia to do.



This climb is about grade and altitude. We have 3% less oxygen for every 300 meters of altitude gained during a ride. At the top of Alto de Letras we have 36% less oxygen than at sea level. The 4% average grade for the Alto de Letras bike climb is also terribly misleading - the true average grade after eliminating about 1,200 meters of descent on the climb is a daunting 7.5%. 27% (22 kilometers) of the climb is descent, 28% (22.3 km) at 0-5% grade, 26% (21 km) is at 5-10%, 13% (10.6 km) is at 10-15%, and 3.8% (3 km) is at 15-20%.
Roadway: Road quality is above average with the exception of several large pot holes that must be avoided on a potential descent. This is a tropical environment and one should expect some moisture on the route.




Traffic: Mild to moderate.




Parking Do not do this climb without support - not only does it take a long time to ride 80 kilometers gaining 4,400 meters, you also have to climb 1,200+ meters on the way back - that makes for a long day (see Full Summary). If you are riding unsupported, you can park in town, or ride from your motel in Mariquita as we did.
Provisions: There are many roadside fruit stands and stores or cafes along the route. The town of Fresno has several cafes amenable to cycling.
Weather and Clothing: You are finishing at high altitude 4,000 meters above your starting elevation. Therefore, be sure to consult the PJAMM "Full Forecast" feature for the time you expect to arrive at the finish to assess what clothing to bring on your ride.
SAG
: We rode this one unsupported but recommend support. We have used the services of
Colombia Bike Tours
and they are magnificent - we vouch for them and will use their excellent services again when we return to this incredible cycling country.
Stay in Mariquita before you ride. We stayed at Hotel Brisas La Gavota and highly recommend it. We also recommend consulting Colombia Bike Tours before your trip as they may provide SAG for you.




Strongly recommend riding with a guide. This is a lengthy climb subject to a multitude of changing weather patterns with significant traffic.
ROUTE MAP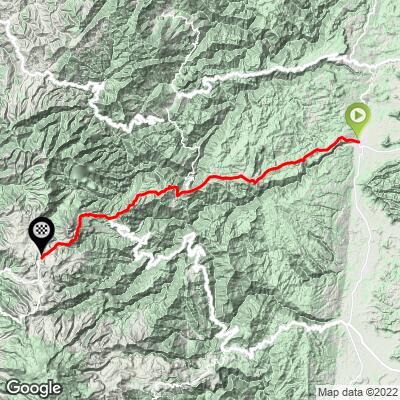 ---
PJAMM TRIPS ADVENTURE STARTER BUNDLES
Check out
PJAMM Adventure's
prepackaged (self-guided) cycling trips. They will help you plan, document and conquer your next adventure.
NEARBY CLIMBS (0) RADIAL PROXIMITY
FROM
---
MEMBER REVIEWS & COMMENTS
Let us know what you thought of this climb. Signup for our FREE membership to write a review or post a comment.
Already have an account?
LOG IN HERE
---
This climb is long! Pavement is great and traffic isn't as bad as anticipated based off of what I read previously on this climb. There are no super steep sections and tons of descents to rest but the climb at 50 miles takes a toll on you. 5 hours without stopping is a long time. Beautiful scenery and a few places along the way to stop and grab a coffee or something to eat if you choose. One dangerous decent around the 48km mark is prone to mudslides and flooding so you need to be very careful. Most of the way up had wet roads but luckily it didn't do more than drizzle/ mist for me! With 20km to go it gets steeper and mixed with the altitude was definitely the hardest 10-15km of the climb. After that it's smooth sailing to the letras picture spot! A must do for a climber but if you don't want to stop along the way make sure to hire a SAG motorcycle for support. Tons of other bikers out there, trucks/ cars are pretty courteous and lots of honking and cheering support along the way.
How did you make that sticker???
I did the climb with Altos cycling tour group and they provided the sticker. Super helpful to know when a descent was coming up!
Aug 12, 2021
Juancho_EL_V
Epic climb! Beautiful scenery. Best to enlist the services of a local touring company for knowledge and support. I used Altos Cycling - great touring outfit out of Manizales. Early start (~6am) is best to escape the heat of Mariquita. I also found it best to break the climb up into segments of 10km vs segments of 10 mi. (I changed my computer settings to metric for the climb). Layers are essential (inc. rain gear) -- the cold and rain as you near the top can make you very cold FAST! At arrival, the town of Letras has plenty of places to warm your bones with the local aguapanela or hot chocolate.