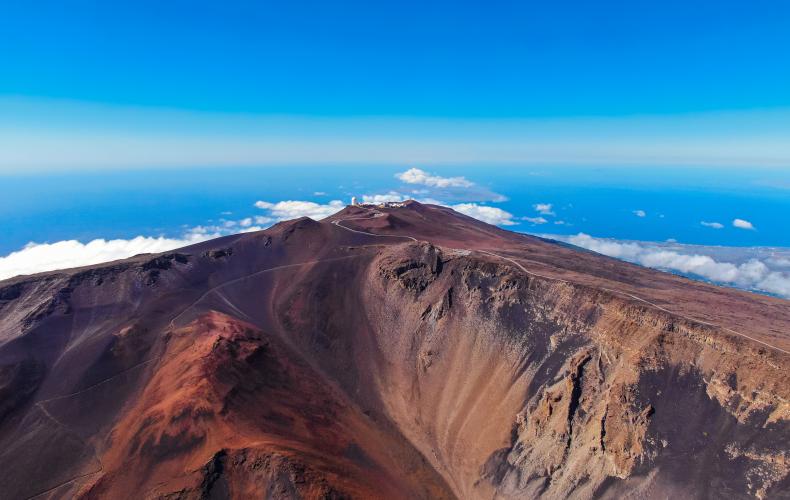 Page Contributor(s): Luke Hise, Phoenix, AZ.
INTRO
Riding by bike from near sea level to the Summit Building just over 10,000' on Haleakala Volcano is one of the greatest cycling challenges and experiences anywhere in the world. On only four other paved bike climbs in the world can you continuously climb so many vertical feet (Mauna Kea 13,863'; Mauna Loa 11,848'; Death Road, Bolivia 11,640'; Wuling Pass, Taiwan 11,349'; and Haleakala 10,103'). This is the #2 US and #30 World ranked bike climb. There are two magnificent sets of hairpins (23 before the park entrance and 8 after).



ROUTE MAP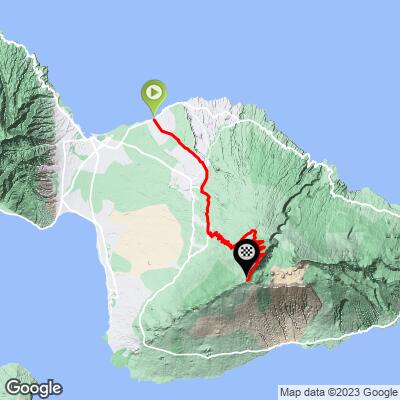 ---
PJAMM TRIPS ADVENTURE STARTER BUNDLES
Check out
PJAMM Adventure's
prepackaged (self-guided) cycling trips. They will help you plan, document and conquer your next adventure.
NEARBY CLIMBS (0) RADIAL PROXIMITY
FROM
---
MEMBER REVIEWS & COMMENTS
Let us know what you thought of this climb. Signup for our FREE membership to write a review or post a comment.
Already have an account?
LOG IN HERE
---
June 21, 2021. Rental bike from Maui Cyclery.
I did it on Aprile 7th 2023 on my 50th birthday. I well prepared this challenge but slopes are not such hard, Alps are much more difficult to climb. I rent a Cannondale Synapse of my size at Krank Cycles in Makawao, where the have a wide range of road bike for renting (very reccomanded!). For food is not a problem, in about 4hrs of climbs a couple of energy bars are enough. For downhill is very sugggested to wear winter gloves, long sleaves and wind jacket. I used also leg cover.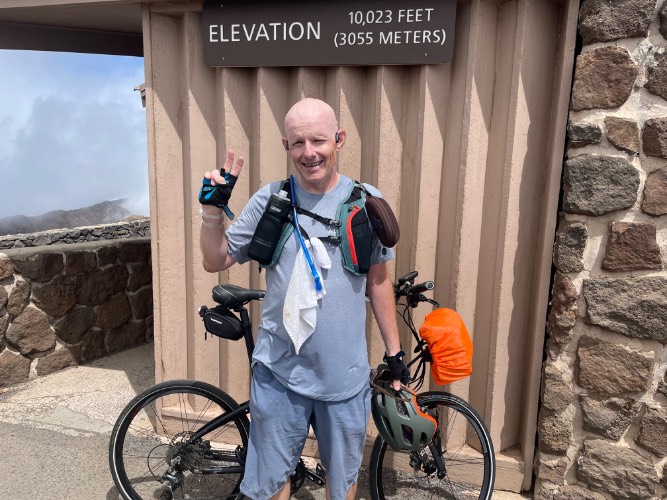 Caveats: 1st time, had two extremes of weather- perfect weather on the way up with astonishing visibility even at the peak for a few minutes- and sudden, freezing rain, fog, 0 visibility and soaking cold on descent. That's actually normal and predictable and one way to avoid it is an event earlier start — I didn't begin till about 730am. I didn't train specifically but I've been riding about 35 miles a day every day for a couple of years in Seattle via some of the steepest hills in the very hilly city and nothing but hill climbs on local vacations and trips. Weird Personal Nontransferable Facts: I have always been a weird eater— and while I packed several energy dense snacks and bars I didn't eat anything. I don't drink much even in desert heat but humidity & altitude will dry you out like the cryptkeeper - I drank 2 bottles and a 1.5 L bladder & refilled for descent & UV at 10k feet will burn you even if you're tan, covered in sunscreen and used to Hawaii— take extra! Apply!
Gorgeous. Pack layers and a waterproof shell. Assume the weather forecast is wrong. Get hydrated and zen before descending— mental prep for downhill even if you're totally physically fine at the summit. Remember to visualize the route because it's be easy to think for example that Kula is "nearly there" and it is not - even the Haleakala visitor center is not really close to the top and the downhill renters and support vans aren't anywhere NEAR the top so ignore that otherwise hopeful sign. Take and replenish three times more water than you would for similar mileage. I'm not hardcore but it was tougher than o expected in some ways and way easier than others.
Completed on July 13, 2022. Though I initially planned to go solo, I ultimately decided to go with support from Maui Cyclery/Go Cycling Maui. This took a lot of my apprehension related to a long climb on unknown roads away. This was a personal choice and by no means the only way to do it. There are several rest stops (e.g., tourist centers) you can otherwise use. On the climb weather changed several times from showers to hot and sunny. At the top it was windy, cool, and dry. Bring layers for the descent! A gilet, arm warmers, and gloves took enough edge off so I wasn't shivering. For food I had 2 packets of fig bars (2 each), 2 Clif bar duos, 1 stroopwafel, and several handfuls of peanut butter pretzel bites. Had 5 bottles with mix. I also had 4 gels. Climb was gradual but most challenging the last mile or so with thin air and fatigued legs. Views were magnificent.
I completed this climb on 12/15/21. I did it as part of a guided and supported ride with Maui Cyclery. This was very helpful since I am from Florida and had done almost no climbing this year. We had perfect weather and the temperature at the summit was in the 50s. There was very little wind and minimal traffic. Having a support vehicle was very useful since we didn't have to carry anything or stick to the few places where you can get water. The guys from Maui Cyclery even took some amazing pictures of us during the ride. I also rented a bike from the same bike shop who guided the ride. They are located right at the base of the climb so it made it super convenient. I would plan for some bad weather during the ride and bring some extra clothing. On the decent some clouds rolled in and it got misty, but it never rained on me. The scenery from the beach to the summit was an added bonus to great roads and pretty consistent grades. I would plan on starting early to avoid any weather issues.
I trained for this ride on Zwift for 4 months. After reading all the reviews, I decided to bring the following supplies. 3 energy gels, 2 granola bars, 1 cliff bar, 3 energy bake (carb and sugar), 1 packet of energy chews, rain jacket, knee warmers and 2 water bottles. At the end of the ride I had consumed all the food but 1 energy bake. There are three places to refill your water bottles. The first one is Rodeo General Store at 6.9 miles from the starting point (Paia fish market), the second one is Kula Market Place at 13.5 miles. (it has bathrooms), and the third one is the Visitor's Center at 25.7 miles. You need to fill both bottles at the 2nd and the 3rd stops. The rain jacket and the knee warmers were the ride savers. Be aware of sudden temp drops and rain. Just keep going, then you will be in the sun again. The last 1000ft climb will really challenge your endurance. This is a ride to remember.
Just completed on 5/28/2021 following the week before the CHEAHA Challenge Ultra 126 miles 13,000 feet in Alabama. Rented a bike and had a guide from Maui Cyclery and highly recommend these guys. This is one of the most beautiful rides I have ever done but was climbing the moment I started. I only saw one rider coming down and rode along one other till 5000 feet and passed one. The ride after 6500 feet definitely picked up and above 8000 feet I was starting to feel the change in altitude. Make sure you have plenty packed for once you pass the ranger station. I had an issue with my Garmin and this was really on my mind the last 3000 feet but was able to capture the ride from the rider I had passed on the way up. Pack a jacket for the ride down it got really chilly but what a great day weather I had. Grab some pictures on the way up because the clouds rolled in and all I could see was the road in front of me on the decent that only took a little over an hour. Thanks to all that assisted.
Just completed this on Wednesday June 9th, 2021 in a little over 5 hours. I didn't see anyone else climbing the day I completed but saw tons who had rented bikes and road down. I have only been cycling since August and started heavily training with climbs all around Phoenix for about 2-3 months prior to the climb. The gradient of the ride wasn't hard but you absolutely have to stay very hydrated and make sure you have tons to eat throughout the journey. I burned over over 3500 calories while completing this ride. Thankfully I had my fiancee and son as my supply car so I didn't have to carry too much on me. It really gets harder after you pass the visitors center with the hardest part being the last 1000 or so feet of elevation. However the views at this point are some of the most amazing I have experienced. It's such a surreal experience to be riding above the clouds.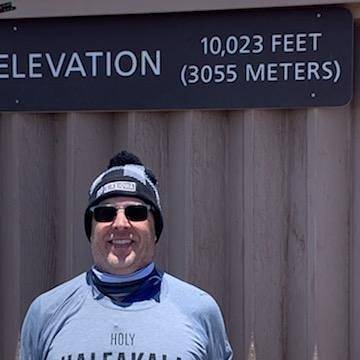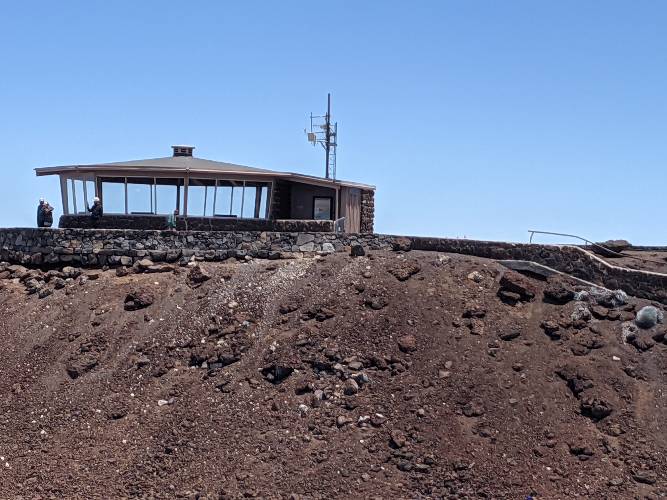 First ever Summit for me. I trained for this after doing it virtually on the Peloton. Completed in March 2, 2021 in 5 hours and 50 minutes. My goal was to complete it and not kill myself doing it. Got hard around 9500 ft due to the lack of oxygen but other than that the ride went well. I was not in amazing shape or anything a power to weight ratio of 3.0 but it was just a matter of keeping the legs moving and eating enough food. The day I did it, 2 other riders were attempting it, 1 did not make it, another guy made it but had to beg for food in the parking lot. So don't underestimate it. It was an amazing emotional journey for me. So glad I did it. #WolfHills
Apr 10, 2021
carlinguernsey
This is a must do climb due to the challenge and the unique nature of being able to start on the beach and end up over 10,000 feet. You visit a few different places on this climb - the lower part is agricultural Hawaii, next you are in more of a tropical rain forest, then typically some clouds as you start the upper part, and finally very volcanic (and usually clear) closer to the top. The gradient is never terrible, but most of the harder parts are higher up. The difficulty with this climb is the length. Takes lots to eat and drink, and proper clothing as it will be much colder at the top and when descending the upper part. The visitor center about 25 miles in has water and toilets. Save some energy for the descent - it can take awhile! You can park at the beach in Paia and get supplies in town before you start (or after you finish). There are bike shops in Paia and other place on the island where you can rent good bikes