Making the most of COVID... Colorado!
-
May 10, 2021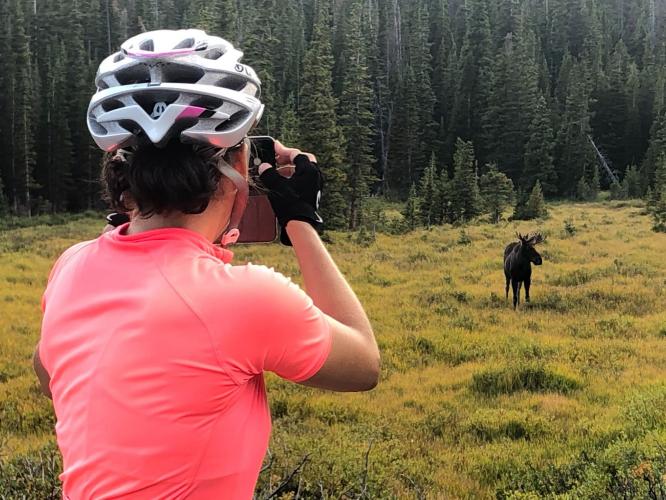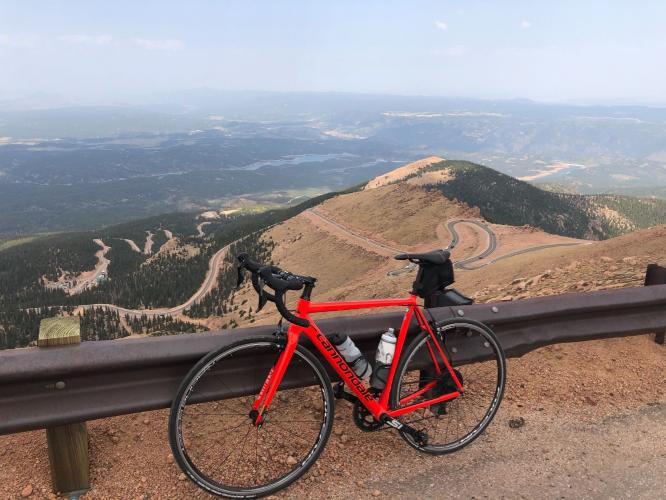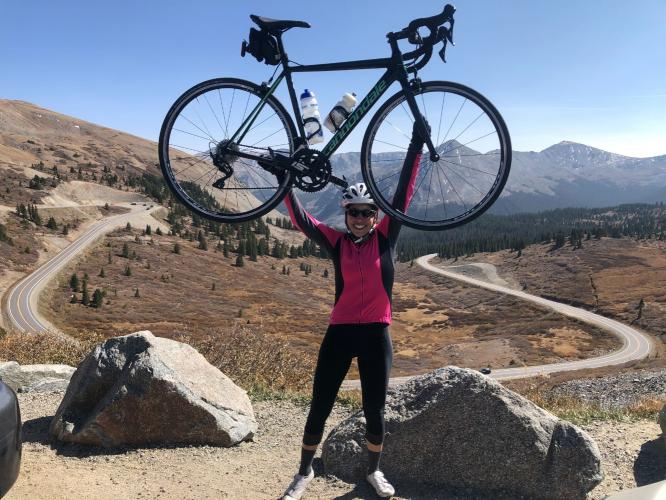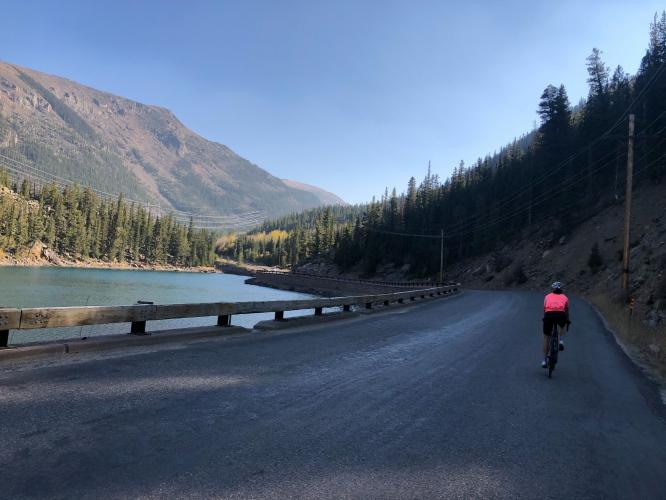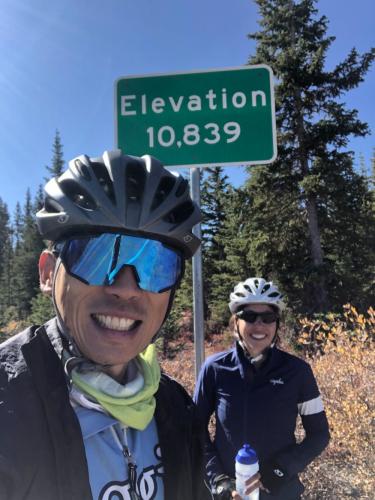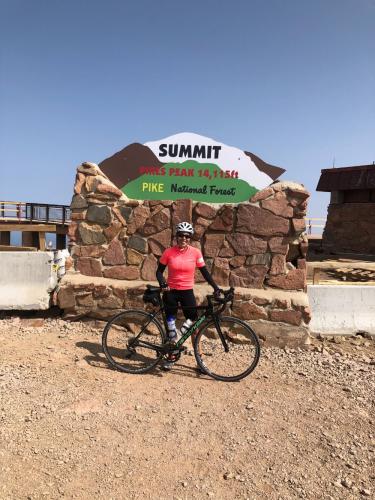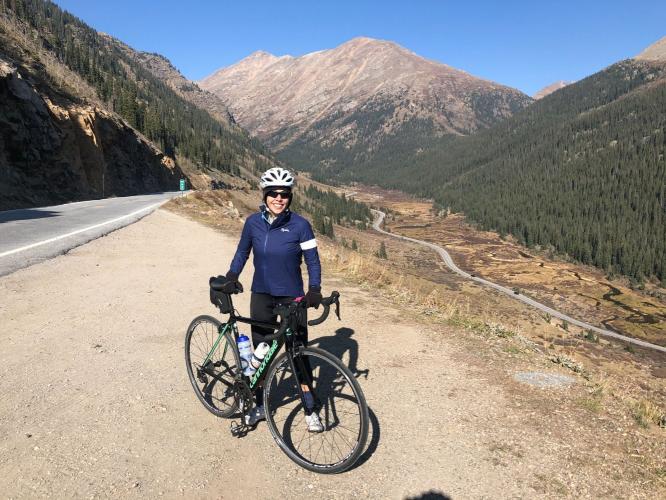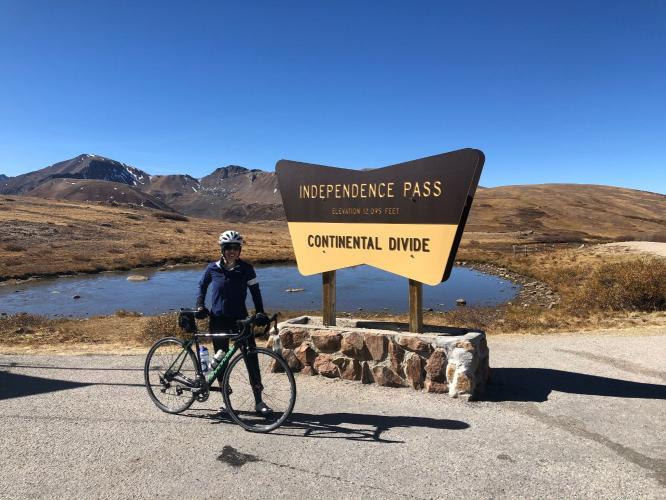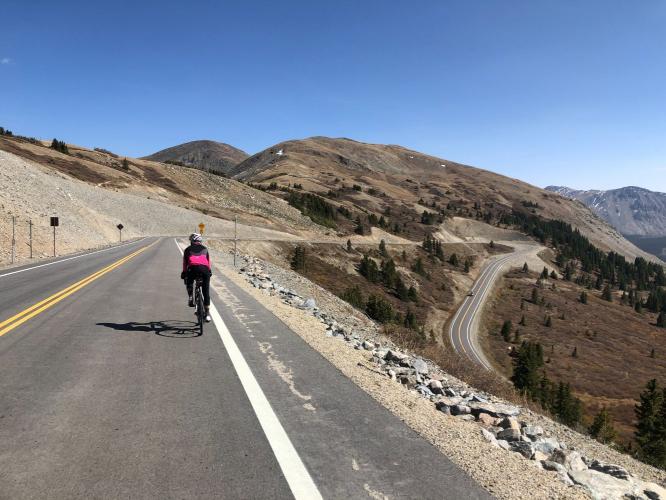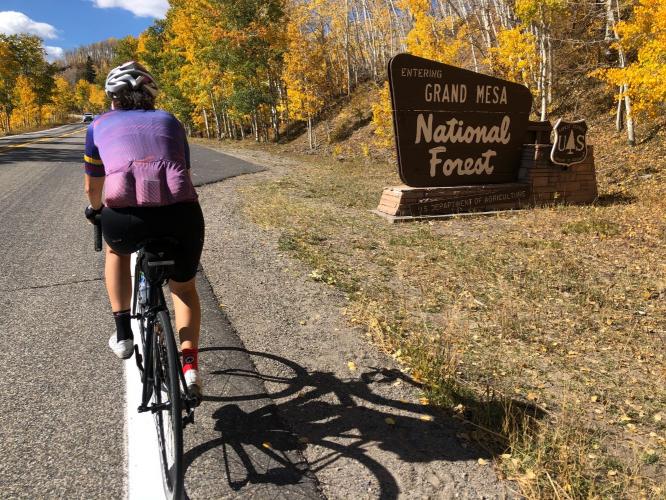 In August 2020, my husband and I decided the pandemic seemed to have no end in sight so what better way to take advantage of working from home than cycling around the West Coast. We had been wanting to visit Boulder, Colorado for a while and this seemed like a great opportunity to make the most of the situation. We packed up our NYC apartment, put everything in storage and jumped on an empty plane to Los Angeles. From there we borrowed (stole) a car from the parentals (since we don't own a car living in NYC) and set off driving to Boulder.
Within an hour of arriving in Boulder, we set out on our first ride to Brainard Lake via Lee Hill Drive and Left Hand Canyon. Starting at just under 6,000 feet we climbed to 10,318 feet! I had never been up that high before. Around Brainard Lake we saw THREE huge moose! We knew immediately this trip was a great decision.
There are some spectacular climbs in this area and cool places to stop along the ride. Estes Park and Nederland were both cute mountain towns to stop for some grub mid-ride. Just past Nederland there is a short climb off the beaten path to Eldora Ski Resort. I highly recommend this as the view of the lake is amazing! Most of the roads are light on traffic and the climbs are long but the grades do not get too steep which is refreshing. Beware however that in order to make your rides into loops you may need to travel on some dirt roads. When the locals tell you to stay off highway 36 and Boulder Canyon - listen to them. No point in dealing with all those fast moving cars and traffic when there are an abundance of better cycling friendly roads.
While in Boulder, you constantly have people tell you that you "have to do the epic climbs". Well luckily when you google "Epic Colorado Climbs" PJAMM comes up. This was my first introduction to PJAMM and what a life changing experience it was. Naturally I set out to conquer the top 10 most epic. Starting with Pikes Peak and Mt. Evans we checked off the 14ers. The feeling is unreal and almost unexplainable once you cross above the tree line and are riding above the clouds. Epic is truly the word to describe this. Pikes Peak will cost you $15 but its well worth the price for this cycling experience. The road is in pristine condition and the traffic is light. This is not an easy climb as the top gets pretty windy but if you have the chance it is a MUST DO! Mt. Evans is a much easier climb with exceptional views at the top but the last seven miles of pavement are not well maintained. I would recommend riding up but getting SAG support for the top portion of the descent. Alternatively you could find a generous donor to repave the top which would make a lot of cyclists very happy! A benefit of COVID was the last 15 miles from Echo Lake to the top were closed to cars, so we had the whole road to ourselves (and the wildlife of course). A downside however was the summit sign was removed so no classic photo spot showing the high elevation.
Unfortunately I was unable to climb Trail Ridge due to the wildfires in the area last summer but hoping to get to this one this summer. There is a very short window for these climbs at the high elevation as you have to wait for the snow to melt but before it gets too cold. We did these climbs in September which worked out well although it was definitely cold at the top- don't forget to pack your winter gloves, knee warmers and a wind jacket for the descents!
We spent about three weeks in the Littleton area just outside of Denver. This is a lesser known area but plenty of climbs to explore. On the Front Range, we rolled out of our hotel each day to a scenic and quiet 10-15 mile climb to Evergreen, Stanley Park or Conifer. Among the roads we explored were Deer Creek, High Grade, City View, Witter Gulch, and High Drive. Roxborough Park had amazing views of red rock (you don't have to go to Utah!). Deckers is also a good option for a longer ride.
Making our way west to Utah, we climbed Guanella Pass, Cottonwood Pass, Independence Pass, and Grand Mesa. Grand Mesa is literally in the middle of nowhere but if you find yourself staying overnight in Grand Junction, do yourself a favor and hit up this climb. You won't regret it. For Guanella Pass I would recommend doing both sides of the climb but if you don't have time, at least go an extra 2 miles after the summit for a stunning photo opportunity at the lake. Independence Pass from Aspen had exceptional foliage/view of the Aspens however it is a heavily trafficked narrow windy road. It was not a pleasant climb with restless drivers constantly stuck behind you, especially on the beginning portion closest to Aspen. This is probably a climb that I would only do once.
If you are willing to venture out of cell phone reception/ WIFI there are so many climbs to explore. Colorado is a must for any road cyclist! Enjoy!
---
MEMBER COMMENTS
Let us know your thoughts about this blog post. Signup for our FREE membership to post a comment or question.
Already have an account?
LOG IN HERE