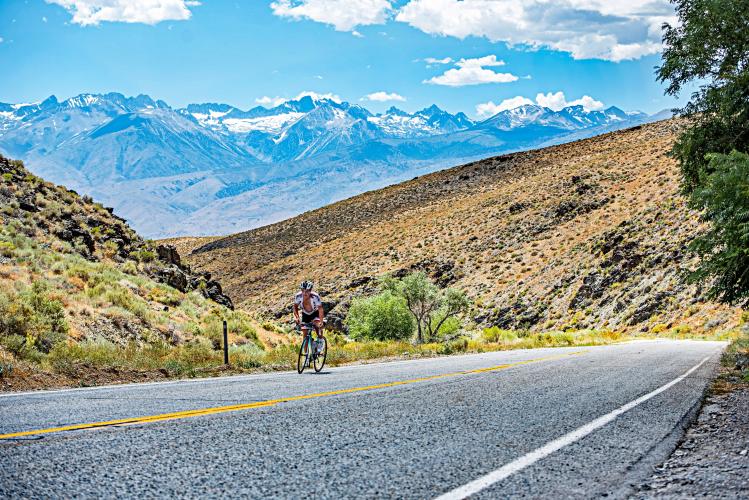 Photos By: Maxfield Bonta
Page Contributor(s): Luke Hise, Phoenix, AZ
INTRO
White Mountain is one of the great ones - an epic, scenic, long and challenging bike climb to the second highest paved points in California. This is one of the Big Four of the Owens Valley (although there are 10 HC in all) - White Mountain, Onion Valley Road, Whitney Portal Road, and Horseshoe Meadows Road. Half of this climb is on Highway 168 and the second half is on White Mountain Road where we have some spectacular views west of the Eastern Sierra Nevada Range over and across Owens Valley. White Mountain is the #3 ranked bike climb in California, #10 US and #105 World.
ROUTE MAP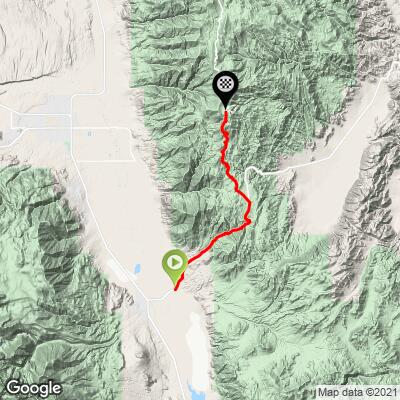 ---
PJAMM TRIPS ADVENTURE STARTER BUNDLES
Check out
PJAMM Adventure's
prepackaged (self-guided) cycling trips. They will help you plan, document and conquer your next adventure.
NEARBY CLIMBS (0) RADIAL PROXIMITY
FROM
---
MEMBER REVIEWS & COMMENTS
Let us know what you thought of this climb. Signup for our FREE membership to write a review or post a comment.
Already have an account?
LOG IN HERE
---
Sept 9, 2023 All the comments and pjamm say enough about this climb. I parked on the paved lot on the right at the info kiosk at the start of hwy 168 - easy 2.3 mile warmup ride to the pjamm start. It is a wonderfully hard, long, grind up and up to the visitors center (short downhill to the vc). Bottled water available. The climb up 168 was a bit unnerving with no shoulder and 55mph. Some steep sections and lots of curves so the traffic was slowed in areas. Very little traffic on White Mountain Rd. WMR was a bit lumpy on the way down and lots of loose gravel so good brakes are necessary. Decending on 168 was great - full speed on a decent road. I do think this climb was just as hard as the Onion Valley rd climb. They are 2 different climbs - both hard but different.
Oct 28, 2022
UltimateExposure
White Mountain is a long climb and gave us a good run for our money towards the end. It starts off with small gradients then starts to work it's way up around mile 2. From there you won't get much under a 7% grade until mile 8. It will through you a nice easy, what feels almost flat, for about 1 mile then will tease you with a few short up hill battles then levels off just shy of mile 10. That will feel like a breeze and will take you to White Mountain Road, where you'll take a left on and do another 5 miles fluctuating in altitude of 7,000 and 8,000 feet. Once you hit the 15 mile marker, it's game on. The road will through steep climbs at you and test your lungs, but the views get amazing towards the end of this climb. You will get stunning views of the Sierra Mountain range as you push through the last few miles. It will help you take you mind off the slow burning pain you'll be experiencing as the gradient easily gets over 10%. Overall, this climb is a long, tough, a climb that will
White Mountain reminds me of the Col de Telegraph/Galibier in that they both are very long climbs broken up by short descents and the toughest climbing is saved for the end. Don't be in a hurry pushing through the bottom because you are going to need plenty of power to get through the last three steep miles at nearly ten thousand feet. The lower climb is nothing to write home about, but the last three miles make it worth it with a spectacular view of the mountains on the other side of the valley. As for White Mountain vs. Onion Valley Road, it depends on what you consider harder. WM is very irregular and steep in sections but there is always a break after a bit. OVR is an incessant, 8 percent grind for fifteen miles. Pick your pain. If you want to do two climbs then head back into town and climb up to Glacier Lodge. It is surprising tough after having already done WMR. The day I tried, it was windy and I ran out of gas about a mile from the top.
I would argue this is the hardest climb in the area rather than onion valley. It is longer and steeper just happens to have a flat and downhill section in the middle. It is externally hot on this climb with the sun beating down on you almost the entire climb and constant steep pitches. Nice views with limited traffic. I would definitely recommend if in the area.
Apr 30, 2021
BradButterfield
One of the USA's finest. Summer and fall are sweltering in the Valley, but as you climb the 7,000 feet up the temps become comfortable and the views are incredible. The day I did it was 105 degrees at the base and 70 up top. The Ancient Bristlecone Pine forest is at the summit - home to some of the oldest trees in the world, and some long abandoned mines/ miner's cabins. Grandview campground is a few miles from the summit and is a great place to camp for the night.
White Mountain is a giant, two solid climbs in a sense with a flatter section in between. The single lane section is unique, just keep an ear open for traffic. The initial section is a fun descent as well. Certainly worth the effort to get there,